Crude OIL 4h - Bearish Reversal
Crude oil is moving nicely to the downside as expected, and based on strong decline from 102.80 leg can either be wave (c) or wave (iii). For now we will stick to a primary labeling that suggests a reversal up from around 97.00 figure, but sharp fall towards 95.00 area will suggests a bearish view with impulse in progress. For now sentiment is bearish and will stay down as long as market trades beneath 100 level.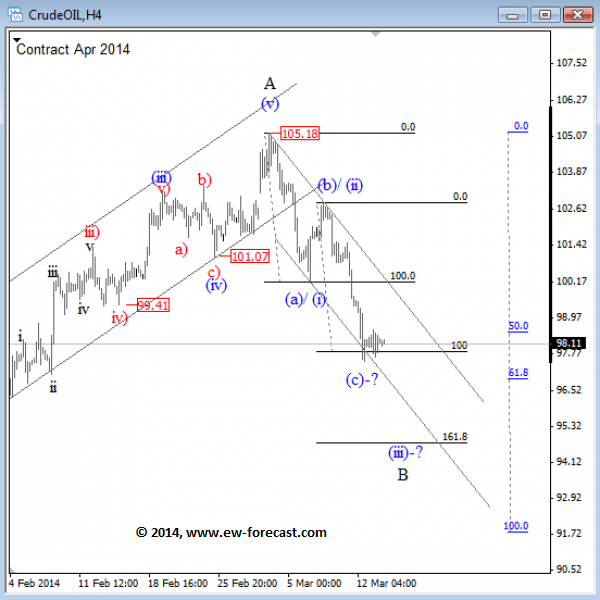 GOLD 4h - Near To Important Fibonacci Zone
GOLD is at the highs once again, now rallying towards 1380-1400 area where we see some important Fibonacci levels that could react as resistance in the next few days. A reworked count now shows a five wave move in wave (c) of C that is in final stages after recent break out of a running triangle in subwave four. Keep in mind that on a daily time frame we are still looking at a triangle count where price is now approaching important 78.6% retracement level of 1435-1180 move.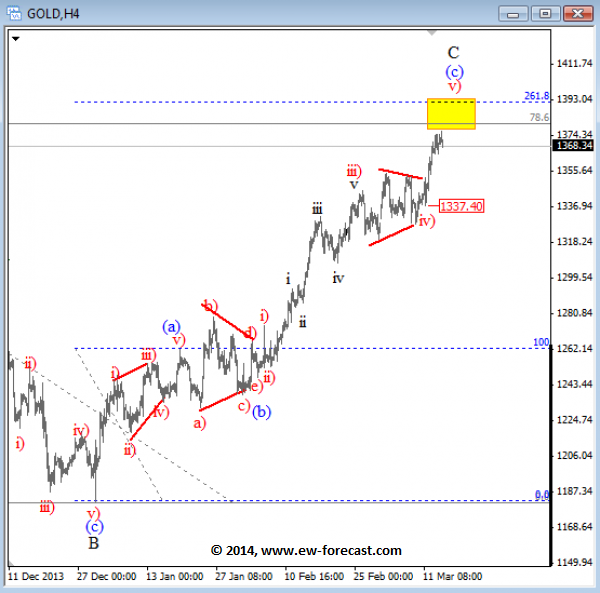 Written by www.ew-forecast.com
Join Our Free Webinar Today 9:00 GMT " Elliott Wave Live Market Analysis" >> http://goo.gl/dQbqep