How could you avoid trusting such recommendations?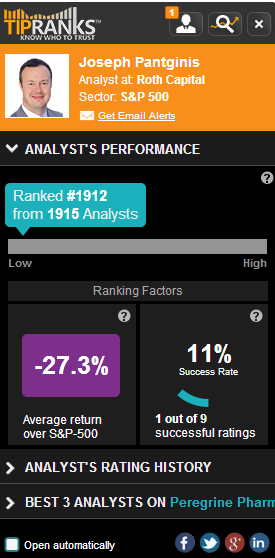 Roth Capital Partners analyst Joseph Pantginis recommended Buy Celsion (NASDAQ:CLSN) stock to his clients on January 22nd 2013, only to see the stock fall a record 80% by January 31st. Pantginis recommended CLSN during somewhat of a hype prior to the release of the company's ThermoDox drug approval. Pantginis particularly highlighted CLSN agreement with Hisun, a Chinese company, saying he was 'impressed' by it. To Pantginis' disappointment (or to any investor who took his recommendation) Celsion crashed and burned, as it presented less than qualifying test results January 31st.
Pantginis, with only 11% of his BUY recommendations outperforming the SP500 as measured, failed to consider that Hisun's so called 'impressive deal' with Celsion was a conditional deal dependent upon test success, essentially committing only $5 million to begin with, to cover cash flow troubles. On a more scientific basis, Celsion jumped ahead of itself, moving from one test to another too quickly, without conducting sufficient testing to provide solid scientific, and financial, grounds for significant investment and credibility according to scientific experts. Another issue Pantginis should have noted was the large improvement (33%) over placebo Celsion drug tests needed to meet for further drug approval. Overall it seems, that Pantginis did not verify that the scientific basis of the expected drug release is of significant prior to recommending to his clients to Buy the stock.
While Pantginis proved less capable in advising on scientific stocks in this case, investors should have known his weakness ahead of time: Just a few weeks before, on January 7th Pantginis upgraded Peregrine Pharmaceuticals Inc. (PPHM) to Buy and on the same day backed out of it with a loss of 46.1% on his recommendation. Peregrine did not have any approved drugs at the time with a less than trust worthy track record. On its previous experimental drug, PPHM publicized drug success, only to admit to scientific problems two weeks later.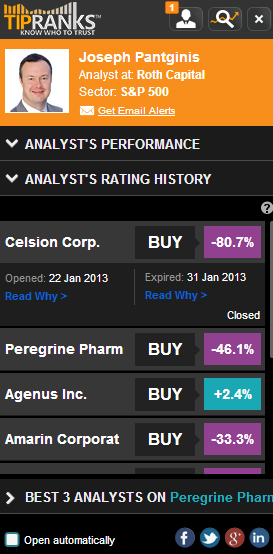 It seems that problems of statistical and scientific significance are common to both of Pantginis recommendations. To avoid investing in the wrong stock, or better yet to listen to the wrong recommendation, investors must know both analyst success track record and recommendation history. If investors knew Pantginis' history, particularly in a fellow drug company, they most certainly would not have listened to his recommendation for CLSN, for now hailed as the worst recommendation of 2013 according to TipRanks analysis of over 2000 analysts' recommendations since 2009.
Disclosure: I have no positions in any stocks mentioned, and no plans to initiate any positions within the next 72 hours.
Additional disclosure: TipRanks manager