Could you have known which recommendation to listen to?
Microsoft's (NASDAQ:MSFT) biggest decline to new records. Has Microsoft's operations and services really changed during the short period of extremes? Or did it simply survive an analyst misguided predictions?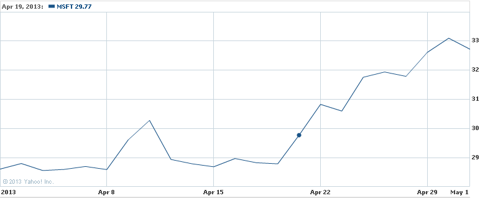 Here is why MSFT drop was the making of an analyst recommendation:
· In the beginning of April, Microsoft's stock position was stable yet at a lesser point than it was the year before. Microsoft was already beginning to develop and plan the reveal of its new Xbox, further developing it's Tablet, existing services such as the 'Office 365', and re-marketing itself with 'Scroogle' adds, adding some action to counter Google (NASDAQ:GOOG) dominance.
· April 9th, Raymond James' Michael Turits recommended to his clients to Buy Microsoft, a, stating "It's important to see potential for Microsoft to gain share outside of PCs as the number and quality of such devices begins to improve." Michael's recommendation return success over the S&P is +.3% as calculated by TipRanks analyst ranking tool considering all of the analyst recommendations since 2009.
· April 11th, Goldman Sachs Heather Bellini recommended to her clients to Sell the stock, downgrading from a neutral position held since 2011. Bellini aggressively stated, "We do not think that even significant price reductions would be enough to stimulate demand." With Microsoft being a big Apple (NASDAQ:AAPL) competitor , perhaps Goldman's affiliation with Apple (seen currently in the debt financing bond sale) impacted her recommendation.
Bellini's measured track record shows that only 44% of her Buy/Sell recommendations actually outperformed the S&P500, generating an average return of -1.8% below the S&P500.
· Microsoft saw it's biggest drop since August 2011.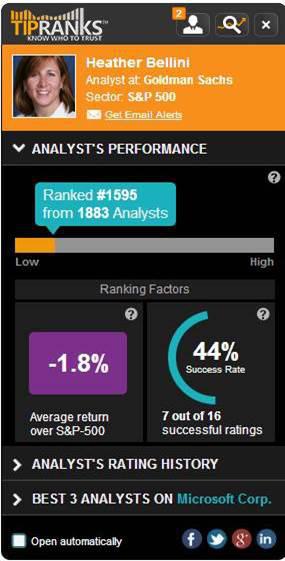 TipRanks measured analyst performance
How MSFT came back from the dead:
· Microsoft's products or services have not changed.
The new Xbox release is indeed approaching, it has now joined the big leads in the tablet world placing 5th most selling Tablet maker, still taking in bad Windows 8 reviews, and investing in its mobilization.
· April 19th shares of Microsoft Corp. MSFT began climbing; showing a 3.4% after the software maker reported third-quarter income that topped Wall Street's.
· April 22nd MSFT shares flexed their muscles, rising another 3.6% to $30.83 and reaching their highest point since June 2012.
· April 26, shares jumped 14% since March, ahead by 19% on its year-to-year date.
· Morgan Stanley's Keith Weiss, with a +1.2% recommendations' average return over S&P, recommended to his investors to Buy Microsoft, seeing potential catalysts that can create a positive risk/reward situation.
Between April and May company plans, products, or output did not change. What changed was one analyst, from a well known, affiliated, and respected company, recommendation. Bellini's downgrade was focused solely on PC market share rather than looking at MSFT as the sum of all its parts essentially bringing the stock to it's lowest point on a recommendation without thorough market perspective. The stock's decline essentially came to play due to one analyst from a well-known company.
What is still to come:
Investors must take into account the company's stability throughout this year, with greater innovation and market share to come including Xbox unique partnerships, re-marketing of Office, and re-branding the company against its main competitors.
What is left for investors to consider is -How can one analyst shake the credibility of a stable stock so drastically?
Disclosure: I have no positions in any stocks mentioned, and no plans to initiate any positions within the next 72 hours.
Additional disclosure: TipRanks Manager