What happens when you combine the largest cable company and the second largest cable company? One might answer that you will get the biggest cable company, but analysts are not so concerned about what to call Comcast's (NASDAQ:CMCSA) acquisition of Time Warner Cable (TWC). Instead, analysts are preoccupied with what to do with TWC stock right now since it is being purchased by Comcast for $45 billion.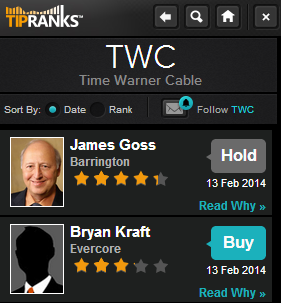 The deal has amicable tradeoffs, including Comcast's ability to improve Time Warner Cable's video, high-speed Internet, and television service, and TWC's ability to "serve regional businesses" that Comcast was unable to originally serve. But, analysts are still unsure about how the dust will settle once, or if, the merger finally goes through, leaving some analysts recommending HOLD TWC and others recommending BUY TWC.
Barrington analyst James Gross downgraded TWC to a HOLD rating following the front page announcement. James noted, "TWC has settled in at around our $145 price target, after first trading somewhat higher. Assuming TWC could climb to the offer price of about $159, the upside would be about 10%, insufficient to maintain our OUTPERFORM investment rating from current levels." James is ranked 253 out of 2391 analysts and has a 4.9% average return over S&P-500.
On the other hand, Evercore analyst Bryan Kraft is confident that the merger will be approved by regulators. Bryan, "raised [his] price target for Time Warner Cable's stock to $175 a share and reiterated [Evercore's] rating on the stock." The merger does not increase competition because Comcast does not overlap any TWC markets and broadband service will become available in more places. These elements of the merger do not pose any threat to the impending merger, leading Bryan to his BUY recommendation. Bryan is ranked 804 out of 2391 analysts and has a 1.5% average return over S&P-500.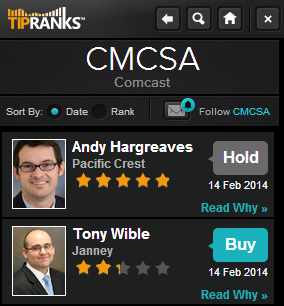 A similar trend of analyst recommendations can be found with Comcast's (CMCSA) stock. 5-star analyst Andy Hargreaves reiterated his HOLD rating, but, "thinks the shares could rise in the $70s, given Comcast's dominant position would likely justify trading multiples toward the high end of historical ranges." Andy is ranked 36 out of 2393 analysts and has an 8.6% average return over S&P-500. But, Janney analyst Tony Wible recommends BUY CMCSA, because he believes the deal will go through. Tony argued, "Clearly there is a solid argument to be made that the deal: 1) helps consumers by keeping programming costs in check, 2) does not change the competitive environment, given that the two do not compete today ." Tony is ranked 1216 out of 2393 analysts with a 0.0% average return over S&P-500.
The deal between to the companies will only take place if it passes regulation, and only by the end of the year. But even before the deal goes through, know who to trust regarding the merger.