With mobile phone companies like Blackberry taking over the news right now it's easy to forget the important wireless carriers that gives us the networks to use these phones. Unfortunately, while T-Mobile US (NASDAQ:TMUS) is the fourth-largest U.S. wireless carrier, the company reported a net loss for a third consecutive quarter due to the increased cost of hunting for more subscribers. Some analysts are taking the news well and are recommending BUY TMUS, while other analysts are leaning more towards a HOLD rating.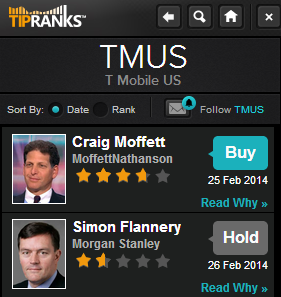 MoffettNathanson analyst Craig Moffett recommended BUY TMUS even though the company has repeatedly delivered less than stellar news. "T-Mobile is making money on each subscriber they acquire - it's just nowhere near as much money as the incumbents are used to," adding that, "the rest of the industry should be very afraid." Craig has a 1.6% average return over S&P-500.
On the other hand, analyst Simon Flannery of Morgan Stanley recommended HOLD TMUS following the latest report. Simon pointed out that, "Increased competition and a highly saturated wireless market should limit growth prospects in the US. The postpaid business remains with two dominant national players, Verizon and AT&T, with significant family/business plan exposure that have better churn characteristics, which could limit T-Mobile from taking share." Simon has a -1.2% average return over S&P-500.
T-mobile might be slowly bringing in customers, but not all analysts are convinced that this enough. Which analyst's advice will you follow?