Google Inc. (NASDAQ:GOOG) has fallen over 16% since its October 5th all-time high of $774.38 settling today at $647.26. Google's shares took a nose dive intra-day after its earnings fiasco on October 18th, when the earnings report was announced earlier than expected forcing shares to be halted after taking a dive. Since the earnings report, in which earnings did beat estimates, shares have continued lower, but with a low implied volatility. Waiting just below current price levels, is the 61.8% Fibonacci Retracement, a technically significant level in which the share price should see support and rebound to the upside. Share prices may fall another 1% to approximately $640 to test this level of support before the bounce back begins.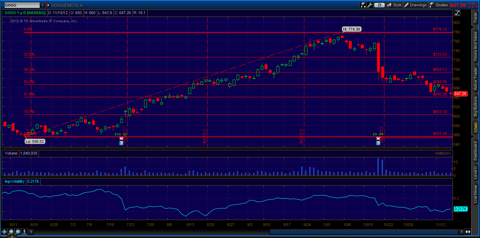 The following option strategies can be used to take advantage of a Google rebound in the next few days, while using less capital than buying stock and defining your risk and potential loss.
Strategy #1: Long Call Spread
Buying a call spread is a bullish strategy with limited risk, as well as, limited maximum return. The maximum your position can be worth is the difference between the two strike prices used. The potential loss or risk is the amount you pay for the spread. If we were to use this strategy here being proactive before the 61.8 Fib is reached, with Google around $647 our strategy will be using the December standard options, Buy 645 and Sell the 650 call.
645/650 Long Call Spread
Cost: $2.50/contract Debit
Potential Maximum Value: $5.00/contract, a 100% return
Probability of Maximum Return: 45%
Potential Maximum Loss: Your cost, $2.50/contract
Break Even: $647.50
Strategy #2: Short Put Spread
Selling a put spread is a bullish strategy with defined risk, in which you will be able to take advantage of Theta Decay, or the decrease in option value from time decay and shrinking days to expiration. As long as Google remains above your designated short put, you will keep the entire credit. Again, with Google at $647, your strategy will be using the December standard options by Selling the 640 and Buying the 635 put.
635/640 Short Put Spread
Credit: $2.00/contract
Potential Max Loss: $5.00/ contract
Probability of Maximum Return: 65%
Break Even: $638
Disclosure: I am long GOOG. I wrote this article myself, and it expresses my own opinions. I am not receiving compensation for it (other than from Seeking Alpha). I have no business relationship with any company whose stock is mentioned in this article.
Additional disclosure: My option portfolio carries long delta in GOOG.