"How long will you be down there for?" I asked John, between sips of coffee. We had just started talking. "As long as we have to be" he responded with authentic austerity.
Within the oil industry, there is a market that a small South Florida company with a proven technology is perusing called "produced water". For every one barrel of oil extracted and produced from underground wells here in the U.S., up to ten barrels of water is extracted. This water needs to be treated and purified of its contaminants before it is released back into the environment. Just how much water needs to be separated and then produced by these oil explorers? To answer that, you'll need to consider that more water is produced in one year from oil companies than the amount of water that spills over the Niagara Falls in nine straight days.
Researching companies that are positioned for results in the gulf spill disaster zone there are a few opportunistic publically-traded companies that highlight the skills needed. But the problem, from the day the Deepwater Horizon rig exploded in late April to today has been a severe lack in efficiency – getting more done with less.
Enviro Voraxial is one of the companies meeting the need for efficiency. When I spoke with the company's chief operating officer John A. DiBella, he was in the Gulf Panhandle meeting with local communities, authorities, and oil spill clean-up officials to discuss their technology and demonstrate the oily-water separator his family and him had built an entire company around called The Voraxial Separator. The separation machinery comes in a series of scalable sizes that are all designed to treat a range of wastewater flow rates and volumes; the Voraxial is arguably the world's most efficient technology for high volume, bulk separation of fluids such as oil and water.
It's clear that BP was not equipped to handle this kind of spill, but Mr. DiBella is happy to offer up that the oil company has been responsive in their efforts to locate, test, approve and acquire technologies that can help manage the enormous clean-up effort that lies ahead. In our conversation, Mr. DiBella did confirm that BP is reviewing the Voraxial separators and that Enviro was now one of 60K original clean-up assistance applicants, and then whittled them down to 250-500 closely considered candidates the oil company would be in discussions with.
And that's the theme Mr.DiBella and I agreed should be emphasized: efficiency. The Voraxial is a proven technology that has generated revenue for the company as a diversified machine coming in four sizes: the Voraxial 1000, the Voraxial 2000, Voraxial 4000, and Voraxial 8000, all designed to handle different volumes of fluid efficiently and cost-effectively while using less space and energy than other technologies. Customers include the U.S. Navy and the State of Alaska (both have issued Letters of Endorsement to Enviro Voraxial that can be found on the company's website here), and other major, worldwide energy exploration and oil and gas drilling companies.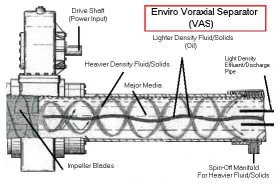 I asked Mr. DiBella to compare the Voraxial technology to some other high-profile competitors. One of them is a company called Ocean Therapy Solutions that offers an oil and water separator centrifuge developed with financial backing from actor and enviro-activist Kevin Costner. Politely, Mr. DiBella began by acknowledging that any separation technology that can be used should be used because this Gulf oil spill is such a grand disaster.
"It's great that everyone is trying" he said, before going on to explain that Ocean Therapies separator maxes out at around 150-200 gallons per minute of separating power (about 5,500 barrels per day), while the Voraxial 4000 does over two and a half times the volume of Costner's machine at fraction of the cost (about 40% the cost), weight, energy, and space. Finally, the Voraxial 8000 does about 25 times the volume of Ocean Therapies largest unit at about 3 times the cost.
Mr. DiBella was confident in the company's discussions with BP and other Gulf officials in the benefits that the Voraxial technology can bring to all parties involved in the clean-up effort. "BP has been responsive" he said, before going on to explain how Enviro is positioned to not only properly deploy its units in a timely manner and contribute to the Gulf clean-up effort but at the same time maintain as a small company whose technology can be used in a multitude of other functions. The company is currently pursuing many projects in the refinery, tar sands and produced water industries.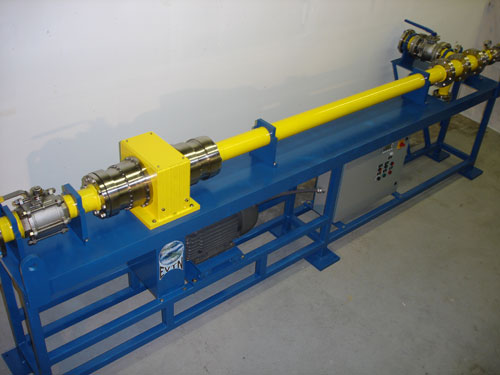 Mr. DiBella has also forwarded on to me a letter he received from a fuel division manager from the U.S. Navy. Although the material was confidential and quotes were not available at the time of this publishing, it was well within the manager's opinion that deployment of the Voraxial would reduce, by large margins the damage done t the Gulf and recover a far greater amount of hydrocarbons that have been released in the Gulf. The letter also went on to praise the technologies efficiency and conceded that the machine is so powerful, spills of any magnitude could be dealt with in the future.
I had also asked about the conditions of the fundamental capital structure of the company – specifically, cash flow and long-term debt. "You have a small company with new technologies working with some of the largest companies in the world with a clean balance sheet and at a time when our product is needed so desperately" Mr. DiBella said, "we moved this company to a debt-free position and we believe the shareholders will be rewarded".
The debt-load he is talking about shedding is the largest long-term liability on the balance sheet, accrued salaries to executives, which was converted into stock options in the beginning of June. "The officers are not here to draw a salary" Mr. DiBella concluded just before he had to hang up, "we're here to build a business and in doing so, benefit from the appreciation of our share price".
As always, feel free to contact me with questions, comments, or concerns, or suggest another CEO or company to interview at Tom@bullworthy.com.
DISCLAIMER: I have not been compensated in any way, shape, or form by Enviro Voraxial, John DiBella, or any of their affiliates or third-parties.
Disclosure:
Short BP