Morning traders,
 
It is becoming very aparent that investors and traders are concerned about exposing their funds and money to the markets for longer term investments.
I think the main reason behind this is the worry traders and investors have about the lack of global economic growth and the recent problems of the Euro zone. On Monday the US was closed for a holiday and although I knew the market would have thin volume both on currencies and the UK stocks, I did not expect the volume to be as limited as it ws. The US certainly leads the way for the rest of the world to follow but it was just so obvious that yesterday with Europe and the UK open, that there was such a lack of volume and movement and this is not down to the US traders not sitting at there desks on Monday.
Over the years, everytime the US has a holiday and the UK is open, I know the volume will be thin and the forex market volatility will be low. However, yesterday the markets really were very quiet and is unlikely to be just because our transatlantic cousins were enjoying Independence day but more down to the lack of belief and conviction the city and traders seem to have with the market right now.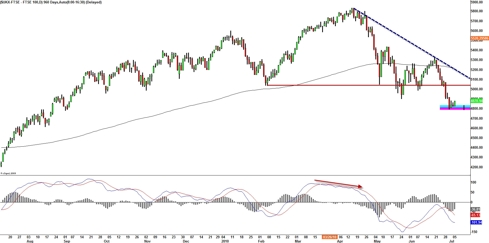 Powered by eSignal's Advanced Get.
The Advanced Get chart above is of the FTSE 100 index and is displaying weakness on many levels. It  has now reached MOB and could have a bounce short term. It is at a pivotal point.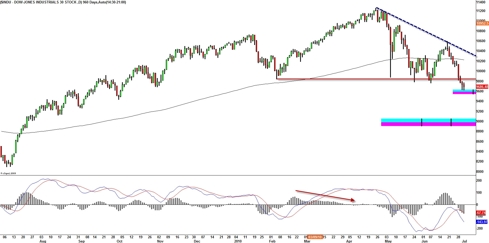 Powered by eSignal's Advanced Get.
The Advanced Get chart above is of the Dow Jones index. This is also displaying weakness on many different levels and has also reached MOB.
Notice how both charts have similarities to them which in not uncommon but both are looking weak. If a bounce occurs from the MOB zone then the trend line could act as the resistance. However if price breaks through the resistance points then we might have the indices back on track again. If not then price can see further low which as of today looks the most likely from a longer term view.
As the US leads the way, if the Dow, S&P, Nasdaq and others fall then this will inevitably lead to other indices around the world to follow. The markets need some confidence injected and I am not sure where that can come from right now.
Patient trading…
Javid Shaik
Disclosure:
No positions