As I wrap up 2013 and reflect on another year of investing (both professionally and personally), I thought now would be a good time to write my first article on Seeking Alpha. After all, I've spent a full year silently participating on this site - reading articles by smart, experienced investors and even sourcing some investment ideas - but I haven't taken the opportunity to contribute to the dialogue.
I believe everyone's investment strategy and experience is informed by their unique circumstances. Here is some information on my unique circumstances:
I'm a professional investor in private capital markets with experience working with multi-asset class portfolios for large institutions (endowments/foundations/UHNW)
I am a value-investor at heart. I'm a not-so-secret fan of Joel Greenblatt and Seth Klarman but, regretfully, haven't taken the time to read many of Ben Graham's original works.
My biggest investment mistakes have occurred when I strayed from my value-investing strategy looking for high FCF (free cash flow) companies at attractive valuations… memories of U.S.-listed Chinese growth companies and asset-valuation plays that went bankrupt make me cringe. But they were valuable lessons to learn early on in my career, and reinforced the conviction I have in my current strategy
My wife and I recently purchased our first home this past summer. Needless to say, my taxable investment activities can be classified into pre- and post-home ownership
Here's a quick look at the current (post-home purchase) taxable portfolio: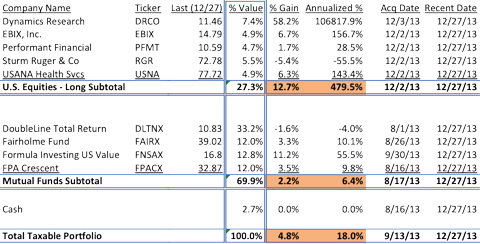 You'll notice a few quick things right off the bat:
73% of my taxable assets are held in mutual funds or cash. This may seem at odds with my belief in a concentrated portfolio but there are a few reasons for this allocation:
First of all, I'm still trying to build up my asset base after plunking down a 20% downpayment on our home. Until I can do that, I want to control the volatility of my assets (note that a third of my portfolio is in Jeff Gundlach's DoubleLine Total Return (MUTF:DLTNX) bond fund).
The other reason for such a high allocation to these mutual funds is because I don't believe I'm the only one with great investment ideas out there. I have as much conviction in Bruce Berkowitz at Fairholme (MUTF:FAIRX) and Steve Romick at FPA Crescent (MUTF:FPACX) as I do in my long-only stock positions. I consider Berkowitz and Romick cornerstones in my "best ideas" portfolio and, frankly, my portfolio would feel incomplete without them.
What's with the allocation to Formula Investing U.S. Value fund (FNSAX)? This is a retail mutual fund managed by Joel Greenblatt at Gotham Asset Management - a little gem out there based on his "magic formula" described in "The Little Book That Beats The Market." Although there's nothing about this strategy that's going to make Greenblatt a headliner in Vegas, his magic formula investment strategy focusing on companies with high ROIC and high EBIT yields (EBIT/Enterprise Value) is a winner and part of my own strategy. Why not invest alongside a strategy that parallels your own?
27% of my taxable portfolio is invested directly into 5 individual stock positions. I initiated all of these at the start of December and have returned 13% just this month - this is mainly attributable to the recent announcement of the Dynamics Research buyout offer this month, which caused the stock to rise 60% overnight.
Overall, my post-home purchase portfolio has a weighted average age of less than three months but has increased 4.8% in value during that time, or 18% on an annualized basis.
I'm not sure whether I've included many brilliant insights in this post, but thought it would be good to explain where I'm at with my portfolio as we look forward to 2014. My goals for the upcoming year are to generate an attractive rate of return on my taxable portfolio assets relative to the amount of risk I take, continue rebuilding my asset base, and shift my overall asset allocation away from mutual funds as I build out a portfolio of 10-15 individual stock holdings.
I'll spend a bit of time focusing on each of my 5 stock holdings in my upcoming posts. I also plan to spend some time on my value investing strategy and how I implement it - I consider my stock evaluation process to be a mashup between Greenblatt's magic formula and Joe Ponzio's valuation method in "F Wall Street," with a very strong focus on companies that are growing free cash flow over time. Lastly, I would love to engage in some dialogue with other Seeking Alpha members -- so I might try breaking out some of those Ben Graham classics, summarize the best parts, and get some feedback from other members. I'm sure this has been done before on Seeking Alpha but there are few things that can stimulate debate like a discussion of the classic texts.