Hong Kong Television Network (OTCPK:HKTVY) is a micro-cap in Hong Kong. Despite the name, its only main business is online grocery sales. HKTVY is the ticker symbol of its US listed ADR. It's also traded in Hong Kong exchange with ticker symbol 1137.
Here are some basic information about the stock:
Price: $4.41
Shares outstanding: 40.25 million ADR equivalent shares
Market cap: $178.4 million
Cash: $157.7 million
Debt: $23.7 million
Enterprise value: $44 million
For people who are not familiar with this company, its name is called "TV network" only because of a historical reason when it intended to do TV programming businesses. However, because the Chairman Mr. Ricky Wong offended the governor of local government in 2013, he failed to acquire a TV programming license, and was forced to change business to online sales platform. You may find more background in my first article here.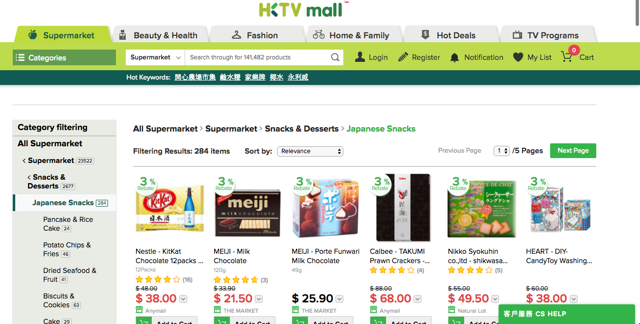 Summary of Investment Thesis
Although its online grocery business hasn't reached profitability yet, recent annual report and Chairman's public talks already indicated that profitability is finally within reach.
The Chairman is one of the famous "intelligent fanatics" in Hong Kong, with a very good track record. He has built the broadband internet business in Hong Kong during 2003 - 2012 and later sold to a private equity firm for $624M.
In the last two years, HKTV Mall has seen dramatic growth, and now it is the No. 1 online sales platform in Hong Kong area. Its daily orders has tripled in the last 12 months. The current run-rate of sales volume is estimated to be 1.2% of Hong Kong total grocery sales. And this number is still growing at an amazing rate.
The recent annual report shows that the company may reach profitability in 2-3 years.
Because most grocery retailers are skeptical about online sales, no direct competitors at close scale currently exist in Hong Kong. In the future, it is hard to compete with HKTV Mall once it has reached a certain scale.
The company has enough cash (net cash $134 million) to fund the growth. (Current run-rate cash burn is $24 million per year)
Besides the cash position, the company also has large real estate property holdings at $109M, with $78M carried at cost. Given the large net cash, and properties value, the company is being traded in large discount to tangible asset value (market cap is at 75% of disposable asset value), especially when considering that the asset is "disposable" because it is not tied to its primary business.
If HKTV Mall can get its online grocery sales to reach 10% of all Hong Kong grocery sales ($7.7B), the rewards will be huge.
The downside is limited by its investment properties which is valued at USD $109M. There might be some net cash left after 2-3 years of cash burn and capex too.
The market misunderstood the company mainly because the uncertainty was large for this early stage business and much of uncertainty has just been cleared out by the recent disclosed information in the annual report. The recent shares price reaction and the break-out of the past consolidation band already indicated the bullish sentiment from investors who follow up this micro-cap closely.
Industry Background
Online grocery sales is a business model that has very big potentials, but also very hard to get started. So far, it has been fairly successful in Europe, but has mixed records in the US. I think different countries have different situations, and the culture differences caused a lot of the mixed records.
Among all factors, I believe the city density, how the shopping is done (drive or walk to market place), and consumer preference (quality, convenience and price) can matter a lot.
Hong Kong has a special situation here. First, it has a very dense urban environment with real estate value reaching a record in the world (some retail shop's rent was even higher than Manhattan). This means it's easier to do delivery once HKTV can reach a good scale and provides it some advantage to compete with local supermarket since it doesn't have to pay for the rental expense.
Second, many Hong Kong consumers walk to supermarket and have to carry heavy and bulky items back home. This means delivery service can save them a lot of work, especially for heavy/bulky items.
Finally, relatively speaking, and in average, Asians care more about saving money than saving time. This could be a negative factor against online grocery shopping. Although as we can see, HKTV Mall's pricing is already pretty low (often lower than supermarket) and it can still achieve 30%+ gross margin. This is partly because Hong Kong retailers have very high rent expense, and partly because two big retail chains are complacent.
Recent Information Release
Although the story isn't new (in fact, I have been following this company for 2 years, and wrote an article in Seeking Alpha 1 year ago), there is some critical new information recently which I believe has cleared out much of the uncertainties.
First, the Chairman has clearly stated that the company has over 3000 daily orders in early March, tripled from 1 year ago. Average dollar amount per order has gone from HK$500 to over HK$600.
More importantly, he also mentioned that the company is likely to reach profitability once the daily order can reach 8000.
Second, although 8000 daily order is still 142% higher than the current run-rate (assuming run-rate is 3300 orders in April). We have to consider that the growth is still fast and mostly out-paced supply capacity. Mr. Wong said he was adding server machines every week and still couldn't match the demand growth. Also, the growth rate was 25% in the first 2.5 months of 2017, shown in the chart of Page 14 of annual report.
Third, he also mentioned that the 2nd offline store has boosted the sales in that region by 6 times in just 2 months. This means the demand is far from being saturated. The offline stores are primarily used for advertising purpose, and all orders are being done using online platforms. The internal target is to double the sales again by year end in that region. This fact, plus the internal sales target shows that the market still has a lot of potential demand and far from being saturated.
Fourth, I am usually very skeptical with any CEO's talks. But Mr. Ricky Wong had a good track record of honesty. For example, he was predicating tripling revenue in early 2016 and eventually was able to keep up to that prediction. Just 5 months ago, he mentioned in public that HKTV Mall is unlikely to be profitable in the next few years, but the recent fast growth clearly changed his perception and now he is expecting getting to profitability once reaching 8000 daily orders.
Fifth, the company just issued some options to Chairman, CEO and employees. This was something new in the last few years. The dilution could be 2.5%, but the fact that they are doing it now could be an indicator that they are finally hopeful and might have wanted to issue options when stock price is still cheap (exercise price was HK$1.46, or USD $3.75 in ADR price).
Finally, the annual report shows 2nd half of 2016 had a gross margin of 30%. This fact, plus the fact that the company is installing fully automated inventory management systems by 3rd quarter 2017, make I believe it would further reduce losses. The main variable cost in this business is the delivery service, and I estimate this service would cost about 10% of the sales, which is far less than the gross margin.
Competition
Other than HKTV Mall, online grocery sales is virtually non-existent in Hong Kong. The biggest potential competitor might be Tmall later on. But Tmall is currently busy on doing the business in mainland major cities. The required investment, operational challenges, and potential market size all point to unlikely competition from Tmall in any near-term/mid-term.
Also, despite the common perception that Tmall has lower operating expenses and better scale advantage, when I did the price comparison, I found that HKTV Mall's prices on grocery or non-grocery goods are actually at the same level as Tmall, some times even 10% cheaper.
Innovations And Operational Excellence
The founder/CEO's talent is reflected in many areas. I am just listing a few here:
1. They have a mobile app which I have tried and believe it is the best online shopping app I have used, much better than Amazon's app. Its intuitive click-flow, beautiful HD images, and large description texts all make me feel hard to find any further improvements.
2. Most people are familiar with online-to-offline, where the businesses try to bring customers from online stores to their offline stores. But HKTV also tried to do the opposite, building very small offline stores just for demonstration and marketing purpose. The store would demonstrate one different category of goods (such as snacks or soft drinks) every week. This not only catches people's attention in a shopping mall to show them the online platform has a lot more selections than they could imagine, it also shows the item physically to the customers, reducing the uncertainty for them to buy online.
3. Recently, they have an innovative idea of doing promotions: a discount will be activated only when enough people have bought it with a week. This method not only encourages partners to participate (given the ensured volume of purchases), it also brings an interesting "gaming" element to shopping. It now feels like a game to beat for those savers who enjoy deals. It also feels that the "promotion deals" are "real" and would take some effort to get. Customers would also recommend the deals to each other in order to get enough people to buy it (making customers work as sales people for them).
For example, if an extra discount of HK$200 is only activated when there are 100 people buying a PlayStation 4 within a week. But before the deadline, there are only 90 people buying, these people will have the incentive to share the deal on their facebook pages to encourage their friends to buy it too.
Also, the promotions are mostly in household items and electronics. Apparently, the company is not just focusing on grocery sales, but want to be a platform for all online purchases.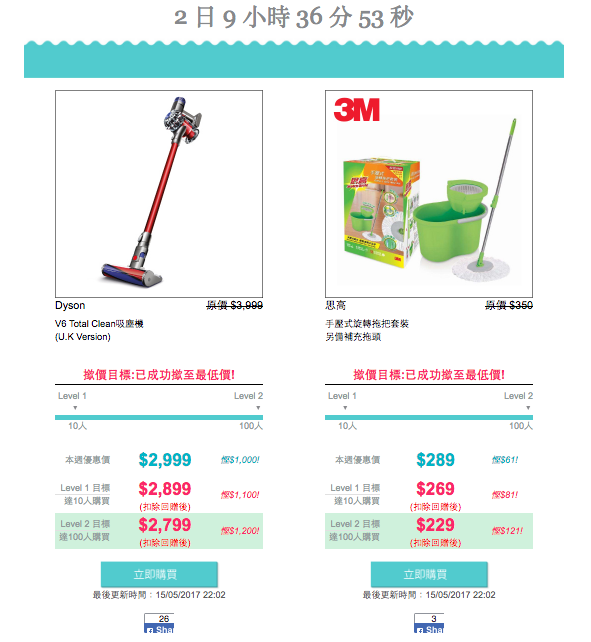 4. Late last year, they had a promotion to give out a top lottery prize of HK$4M to help people to buy houses, the only requirement to enter that lottery is to download their mobile app (no purchases are required). Given that the housing price in Hong Kong became so unaffordable to many people, this promotion really drew many people's attentions.
Conclusion
In conclusion, there are mainly 3 reasons to like it:
1. The management is very passionate and has learned a lot when conducting the new business along the way. It has been amazing to see him finally pulling this off. He didn't start with any retail industry experience, but was able to learn all the things along the way. I like to invest in a company with someone I admire.
2. This is different from a regular VC opportunity because the company is traded at a large discount to asset. Regular startups have very little asset and huge cash-burn ahead. In this case, there is no share dilution in the next 3 years and it also has fairly good downside protection.
3. Shareholders have been depressed due to the poor stock performance in the last 3 - 4 years. Recent new information takes some time to be fully digested.
Overall, it is a combination of value idea and growth idea, which is pretty rare as I have shown in my previous article.
Disclosure: I am/we are long HKTVY.
I wrote this article myself, and it expresses my own opinions. I am not receiving compensation for it (other than from Seeking Alpha). I have no business relationship with any company whose stock is mentioned in this article.