It was one of the most famous fights in history. November 25th, 1980- the Superdome in New Orleans- the rematch for the Welterweight championship of the world between Olympic Gold Medalist Sugar Ray Leonard and the sensational Roberto "Hands of Stone" Duran, a national hero in Panama. It was a classic match up of the plodding puncher Duran against a flashy, fast Leonard.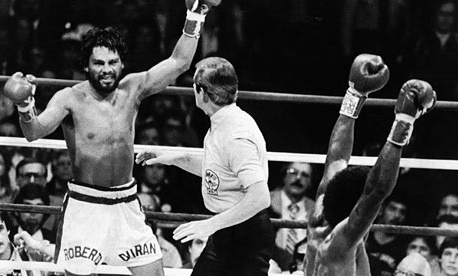 Leonard and Duran had fought in Montreal earlier that year, and Leonard lost in a decision against a fighter he hated. In the rematch Leonard, who was winning handily, claimed victory in the 8th as Duran turned his back to Leonard and said "No Mas" to the referee. This ended Duran's reign as welterweight champ. It's one of the most famous events in boxing history.
After the fight Duran claimed to have been suffering from stomach cramps, and announced he was retiring from boxing. He actually retired 22 years later at the age of 50.
A lot like Roberto Duran, the biggest fund managers who were formerly active in the small cap China space are saying No Mas to the same stocks that have treated them so well in the past.
The annual post summer Rodman Renshaw conference in NY this past week is usually a coming out party for the China sector. This year it was very well attended by over 100 based China companies, but the mood was somber at best as the news of late has been full of rumor, innuendo, and accusation of fraud on the China front.
With many small cap China stocks now trading at 3 to 5 times this year's earnings and delivering 50% growth rates, the issues here are certainly worth exploring as these valuations make absolutely no sense- unless the numbers are fraudulent or the market has lost its mind. As it turns out, it's a combination of both.
The institutional community in the US is now demanding a higher standard from the China based companies as regards accounting reporting. There are 10 stocks of 200 being overtly attacked by short sellers. Assuming there's truth in half the cases, that leaves 195 stocks trading on the AMEX, NASDAQ, or NYSE delivering real numbers and absurdly undervalued.
Like Roberto Duran, after a little rest and recovery, these fund managers will be back to fight the good fight just like Duran- for another 22 years. But- they are demanding some changes.... Read on.
Recent Ugly Revelations
There has been a raft of negative publicity related to China based stocks of late. Want a few ticker symbols? How about ONP, DYP, DGW, CGA, CHBT, and last week's casualty- UTA. All have been the subject of smear campaigns and unusual scrutiny.
Don't you believe for one second investing in China stocks is dead on Wall Street. Friday, September 17th was a big day. Soufun Holdings Limited (NYSE: SFUN) came public on the NYSE. This company owns a real estate, home improvement, and home furnishing web portal in China.
The IPO of SFUN was priced at $42. Reminiscent of the rah rah dot com days, SFUN closed at $73.50, for a whopping 75% gain on opening day for those lucky enough to get a piece of this IPO. This is just what the China sector needs to get energized again.
The institutional community seems content with the information coming out of Baidu (NYSE: BIDU) and Soufun (NYSE: SFUN), but is turning its back on the small cap stocks.
Here's a few examples of the recent stocks under attack from short sellers:
Orient Paper (AMEX: ONP): This one probably represented the tipping point. The company was attacked by a newly minted web site: muddywaters.com, who claimed the company's books were fraudulent and based most of their allegations on the name of a subsidiary, and that subsidiary's differential in the numbers on the taxes it was paying relative to the financial performance ONP was reporting. The company responded by hiring outside independent auditors from a major firm to review the company's reporting.
China Biotics (NASDAQ: CHBT): This company has been under attack based on its filings with the SAIC- something you will hear more about. In short, their filings on which they pay their taxes in China do not match their filings on which they base their earnings and financial performance in the US.
Duoyuan Printing (NYSE: DYP): This story is just butt ugly, and there's no doubt there is some sort of fraud going on in this situation. This company was smart enough to hire Big 4 accounting firm Deloitte Touche as their accounting firm- but they outsmarted themselves. Deloitte simply wanted to know how they spent a little over $3 million in expenses, and the company thought it was too much to ask for. As a result, Deloitte was fired, and since then there has been a wholesale defection of board members and top management. Clearly, something does stink at this one. Sounds to me like management was siphoning of some funds for itself- deja vu Dennis Koslowski of Tyco fame who ended up in jail.
Duoyan Global Water (NYSE: DGW): Duoyan Water has the misfortune of having some of the same founding shareholders and the same Chairman as the former Chairman of DYP- the Chairman also happens to be the largest single shareholder. DGW has had no compliance issues with auditor Grant Thorton, and is making a pre emptive strike by getting a third party to review its compliance standards. The market is throwing out the baby with the bath water here.
China Green Agriculture (NYSE: CGA): This fertilizer producer has recently had its numbers called into question. Again- there's no proof or investigation the numbers are fraudulent- simply unqualified authors who are getting their message out are questioning their reporting based on items in the financials they claim just don't make sense.
Universal Travel (NYSE: UTA): This is the latest casualty of a short attack based on rumor in innuendo this week. The free fall was precipitated by a professional short seller- John Hempton of Bronte Capital wrote a scathing "expose" wherein he demonstrated the company's web sites didn't provide him with Western style online travel services. He concluded the company is nothing but a phone in travel service, and claimed their numbers must be fraudulent based on their labor overhead vs their revenues. Conveniently, Hempton is located in Australia, and therefore enjoys a level of insulation from both civil law suit and SEC investigation.
There's a few more examples of companies falling victim to either their own self induced foibles or fabricated attacks from those standing to gain. It's the perfect storm for the short sellers to have their way with the public- the market environment is one in which investors will sell first to preserve capital, and find out the truth later. This group of short sellers is extremely well organized and knows how to work the media to their benefit.
The August 30th edition of Barron's contained a featured article entitled "The Big Dangers Of Small Stocks From China". This article was a beauty. Claims were made about the performance of many small stocks, but when one really drilled down and got the facts, the claims in the article were baseless. In fact, most of the stocks mentioned in the article did perform well during certain periods aligning with market conditions, and all out performed the major indexes as measured from the time they really began to trade some volume. If you want to read the fact based rebuttal to the nonsense, click here.
Part and parcel of these attacks is of course, the blood sucking attorneys. Law firms are popping up everywhere filing class action suits based on the conclusions of the uncredentialed noise makers. No doubt, this was all organized in advance as well.
As I said, well organized, using the media, and winning the battles on the short side. Not that I have any problem with short selling. I believe any investor who does their homework should profit from digging up information that allows them to gain from their knowledge. Just legitimately borrow the stock according to SEC regs and short all you want. Over the years, I have been very critical of the SEC's failure to prevent the illegal naked short selling that was allowed to run rampant in small stocks. It took the run on the bank stocks in the '08 crisis for them to do something about it.
The biggest fund managers in the small to mid cap China space are now like Roberto Duran- they are saying No Mas- no more investing in positions without some changes in corporate governance out of China based companies with US listings.
Here's what they want:
Big 4 Audits wherein the big boys at the audit firms in the US are willing to sign off on the audits.
More transparency in the financial presentations from the companies.
It would help if the PCOAB- the auditors oversight board, was allowed in China. This is the Public Accounting Oversight Board created by Sarbanes Oxley to audit the auditors. The Chinese government has not allowed it in China.
SAIC conformity: This has been an issue that has plagued a few companies. SAIC is the State Administration For Industry and Commerce. Companies within China report their sales and profits to this organization in China for the purpose of paying taxes. There have been some discrepancies between the numbers companies report to the SAIC, and the numbers they report in the US accounting filings. The SAIC numbers are lower to avoid paying higher taxes.
The view of the institutional US community: We've funded you with billions, so now you have to do things our way, or take the highway.
Over the past two days I have broached these issues face to face with the CFOs of several small cap China based companies, and there will be some changes across the board. Some of them are getting the message.
For example, the CFO of Biostar Pharma (NASDAQ: BSPM) told me the company was reluctant to hire a Big 4 accounting firm as the cost was 4 times what they were paying a reputable Hong Kong based auditor. CFO Bill Chen,formerly an auditor in China with Earnst and Young, knows his stuff. He did tell me the audits coming out of his Hong Kong based auditor were exhaustive. Lower level accountants were sent for days at a time to stores carrying their products all around China, and they would count merchandise as it left the shelves. All distributors were contacted to confirm sales, and all bank accounts were reviewed at the banking level.
In their next 10Q filing, this CFO intents to disclose the numbers BSPM files with the SAIC along with disclosure according to US SEC standards.
He also explained to me there were still many cultural differences between the way business is done in the Far East, and the way it is done in the US. For example, he views it as business as usual in China to report lower numbers to avoid taxes. Most retail businesses with cash registers report little of their revenue. The tax code is more of a guideline, and there are often negotiations between companies and the government concerning how much they will pay in taxes and how they will report their top and bottom lines. He felt the SAIC reporting differences were blown way out of proportion.
In my view, this institutional buyers strike against the China small cap stocks is a heaven sent opportunity for individual investors. You simply have to exercise a bit more caution, and be a little more selective. Valuations are likely to stay down as the smoke clears on much of this stuff, and the target rich environment for short sellers diminishes.
There are many great small companies that will grow and prosper in the "New China". I will be taking a little more time to use my China resources to check channels, review their audit process, know who the auditors are, and check SAIC filings.
The CEOs of these entrepreneurial China based companies tend to be very hard nosed and frugal. They will resist the costs associated with compliance standards. Those who play ball will be rewarded with better valuations over the longer term.
There will undoubtedly be more revelations coming out of the short side concerning these China based companies. I'm certain China Media Express (NASDAQ: CCME) is one they are targeting- the short position is inexplicably large, and the valuation has been bashed down to a mind numbingly cheap level. Iconic accounting firm Deloitte Touche is their auditor, but I'm quite certain the shorts have something up their sleeve. When the revelations come out, I'll decide if the stock is a buy when it swoons, or if it's time to exit stage left.
Fortunes have been made by astute investors who were willing to take a chance when the market decimated a whole sector based on the missteps of a few. Regional banking stocks in the '08 crises come to mind- the market priced many healthy banks for collapse, and fortunes were made by those intrepid investors who waded in at the point of maximum pessimism.
China companies with Hong Kong listings are faring much better. Valuations and volumes of equivalent sized companies in Hong Kong are currently far better than their US counterparts. Hong Kong global investors are far more comfortable investing in China based companies. Far East investors know Far East companies.
We're close to the point of maximum pessimism now. It will take some time for the process to run its course, but investors will come out better on the other side. This climate is a great opportunity to invest in great businesses for the long term.
Disclosure:
Long CCME
Disclosure: Long CCME
Disclosure: Long CCME
Disclosure: I have no positions in any stocks mentioned, and no plans to initiate any positions within the next 72 hours.