The S&P 500 took a pretty good run at the 1300 resistance and retreated slightly over the past couple of days. With breath abated, traders are wondering whether enough momentum truly exists to break through to the next level or if we are destined to fall back to the doldrums of the low 1200's for a little while longer.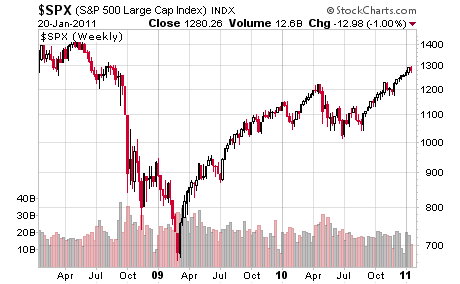 The Good News
Let's consider a broader view with weekly price bars….
We are currently in a bullish price trend. Using the PSAR as a trailing stop-loss we can set our 'action' button somewhere around 1240, which allows a little more breathing room yet. Support does exist around 1228.

Also, for those that love William O'Neil's CAN SLIM trading methods, a sloppy cup and handle was formed during the latter part of 2010. We have since broken out past the handle. We are also trading well above the 50 day moving average. 

Despite being pushed down hard, Jan.20th sprang back up to finish the day fractionally below the 10 day moving average.
The Not So Good News
Now for some bad news on the daily price charts…

If you also follow the CAN SLIM trading concepts, we have experienced at possibly 5 pretty decent liquidation days on the S&P 500 since the beginning of 2011. These are days of above normal selling, or other high volume days with little price advance. If you add in Jan. 18ths anemic advance on high volume, you could even add one more of these to the mix. This is a big flashing warning sign.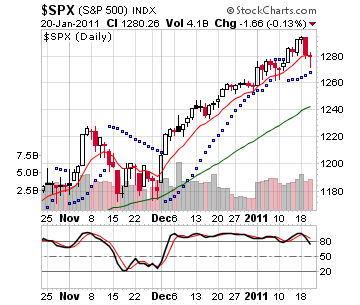 The PSAR on the daily charts only gives us a short-term stop-loss of 1268. When tracking net volume flow using On Balance Volume, the selling pressure has increased and dipped below the 14 day moving average. Momentum is turning down as Slow Stochastics have dipped below 80 which often provide a early indication of a pull-back.
What Does This All Mean?
The S&P 500 has made a good run since last September rising 22%, and even making roughly 8% gain since the beginning of December. Has this trend run out of steam? An early indication is that we might see a little more downside yet. Still, its all-together too early to state dogmatically, but the high volume churning with little advance means that I'm not the only one with doubts that we are making new highs imminently.
What are some ways to prepare in case we do trade listlessly?
The easiest is just to watch the SPX to see if it closes below 1270(or the 127 if trading the SPY) over the next couple of trading days. There is some support not to far below so you will likely have another opportunity to hedge without losing too much should prices crumble.
Buy some VIX call options. If the market drops, the volatility index will increase thus giving you a hedge on your long stock positions. 
Buy some 3x leveraged bear ETFs such as the FAZ, BGZ, ERY, or TYP by Direxion. But be very cautious with holding these long term as they are only for very short-term hedging. Long-term positions are weighted to lose value over time when compared to the underlying.
Buy some put options. This is a good idea since not only do puts increase when prices drop but they also appreciate when implied volatility rises which typically occurs when prices fall.
Sell off portions of your highly speculative stocks. You know, the ones that have higher volatility than the S&P 500 index.
Disclosure:
I have no positions in any stocks mentioned, and no plans to initiate any positions within the next 72 hours.