Is gold down? Yes. But is it down and out? Far from it. As a trader you need to know when price action is operating within normal parameters as you play the bigger trend and you need to know when the trend has truly broken down and it is time to bail or even go short. What is the case with gold?
Long-term Trend
Gold (NYSEARCA:GLD) is still in a long-term uptrend over the last decade or so with the most recent chartable channel starting in 2009.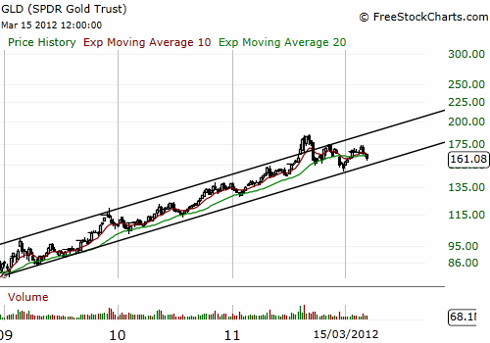 As you can see we are still in the larger upwards trending channel when looking at a weekly chart (the manic peak was not included in the average trend zone). What does this mean for short-term trading of gold?


According to the daily chart above we are gearing up for a bounce somewhere in the vicinity of $1,550 or above - depending on when the bounce occurs. If prices dropped past our trendline and closed below the previous low of $148.27 on a weekly chart in the gold-based ETF, this would be my signal to cut my losses.
So while I am not a buyer of gold yet, it is heading towards a key zone where, if it finds support, investors and traders might push prices up to the next level which could setup gold breaking above $2,000 late in the year.
Gold is down and short-term bearish when considering days to week(s), but that is not to say we are in a downtrend yet. Hang on and see how the trade sets up.