My Mortgage ATM: June Portfolio Results Summary
Review June portfolio results for My Mortgage ATM cash machine.
Portfolio allocation = 50% exchange traded securities/50% managed no load bond funds.
Distribute 50% of interest and dividend earnings each month to Mortgage Checking Account.
Reinvest 50% of interest and dividend earnings each month into My Mortgage ATM Account.
Objective is for the Mortgage Brokerage Account to produce more income each month to reduce my mortgage expenses
Introduction:
Special Notice: Due to the Holiday week, I am publishing the June Mortgage ATM results a little early, which means the screen print outs and results, will be missing one (1) day of results.
Mortgage ATM had a very good month in June, which shows how an individual with a little amount of cash contributions can start the process of creating a monthly paycheck, before retirement, via a taxable brokerage account, to supplement the household expenses.
We will continue the process of selecting different types of financial instruments to diversify our holdings to mitigate risk, while increasing dividend and interest growth each month.
Our Guidelines:
Once again, our guidelines, NOT RULES, just guidelines that will allow us to have a game plan, but also take advantage of any type of opportunity the market may toss our way.
Portfolio allocation = 50% exchange traded securities/50% managed bond funds
Weekly contributions = $50 to $100
Extra cash will go in the managed bond fund until sufficient funds for additional purchases.
All purchases will be at least $1,000 (exception our managed bond fund)
Transfer to Mortgage Account 50% of interest and dividends.
Reinvest to Brokerage Account 50% of interest and dividends.
A Noah Ark strategy of investments, 2 RIETS, 2 CEF's, 2 ETF's, 2 MLP's, 2 DGI Stocks, etc….
No investment less than 3% yield, unless it is for a very good reason, perhaps to capture appreciation as part of our Total Return Strategy.
My Mortgage ATM Portfolio June Results:
In June we saw a new equity position established in the portfolio. American Realty Capital Properties (ARCP), is a triple net REIT that pays monthly dividends and has received a lot of negative sentiment from recent decisions that resulted in dilution or reduction of share prices. Sometimes the market will provide opportunities from time to time, to buy companies at a discount price. We now have two (2) REIT's in the portfolio and next month we will look for another sector or industry to choose from to increase diversification of our income stream.
Please review the screen shot below from my WSJ Portfolio tracker showing June Total Return results.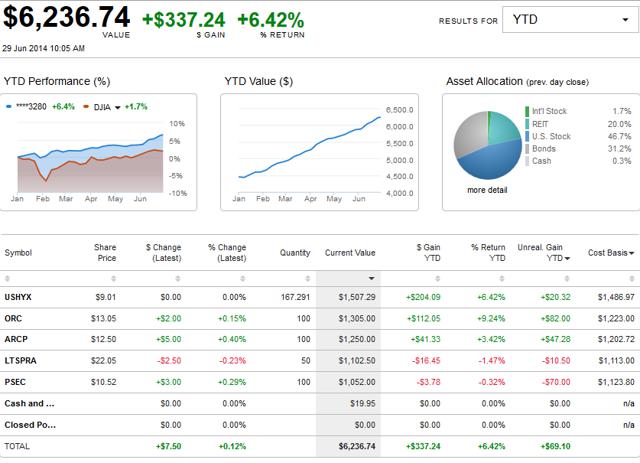 Current Portfolio Positions and Current position Yields (as per Morningstar)
(Screen shot below on 6/29/2014)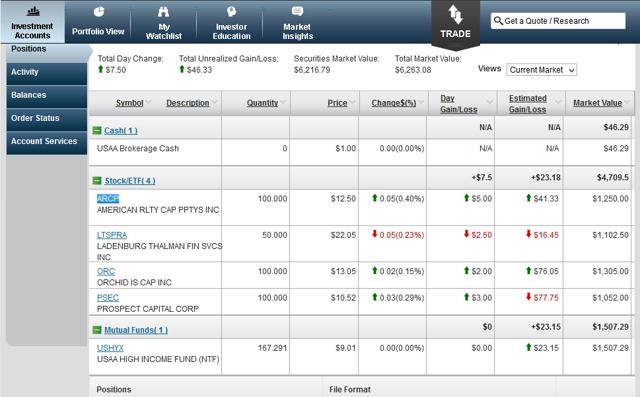 A couple of items in the above screen shot of the brokerage account to review for June.
Total Market Value increased from $5,865.44 May 31st balance to $6,263.08 June 29th
Total Unrealized Gains increased to $46.33
New position was established in (ARCP) which will increase next months cash flow.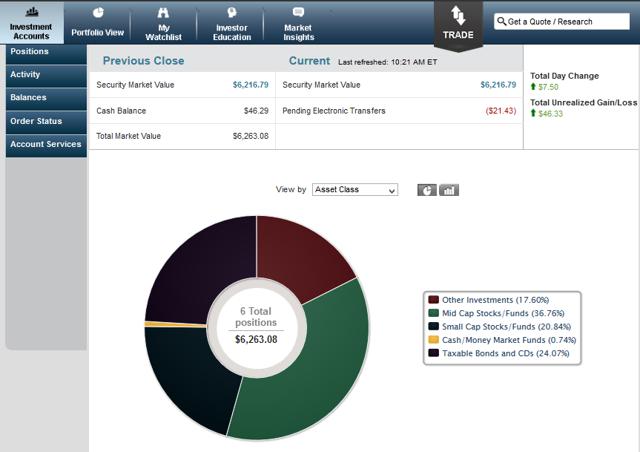 Diversification Strategy:
Reviewing the summary of our Mortgage ATM brokerage account indicates greater diversification this month due to our ARCP Purchase. We have drifted away from our 50% bond objective, which is something to keep in mind for future portfolio purchases.
June Mortgage ATM Activity and Transactions: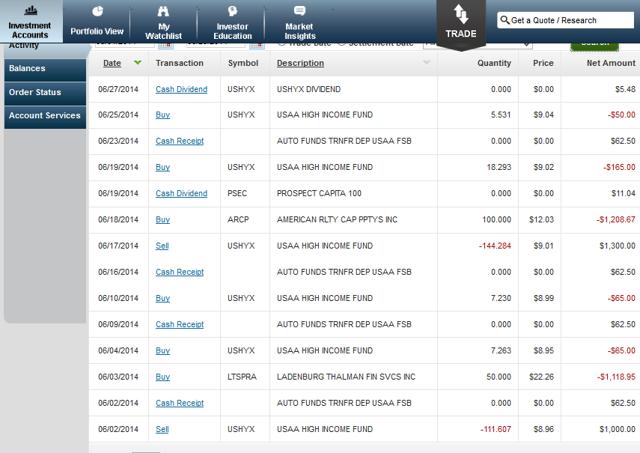 Total June Dividends and interest = $42.86
Total Projected July Dividends and interest = $51.93
Total June Contributions = $250
Total June Reinvestment = $21.43
Total June Distribution to Mortgage Checking Account = $21.43
Special Note: (NYSE:ORC) qualified dividend of $18.00 will arrive in the account tomorrow, but do to the Holiday week, I decided to publish this article a little early.
Distributions transferred from Mortgage ATM Brokerage Account
| | | | | | | |
| --- | --- | --- | --- | --- | --- | --- |
| 06/29/2014 | Cash Disbursement |   | FUNDS TRNFR MORTGAGE |   |   | -$21.43 |
|   |   |   |   |   |   |   |
My Mortgage Checking Account
This account is set up exclusively in order to pay our existing household mortgage payment of $1,700.00 dollars each month. The following screen print illustrates how the mortgage ATM is reducing the amount of principle required for me to pay each month.
Special Note: Our monthly distribution to our Mortgage Checking Account saw a reduction, due to our new guideline of 50% distribution and reinvesting the other 50%.

Special Note: The $21.43 Distribution for June has not yet arrived in the Mortgage Checking Account.
Conclusion
I believe we are marching along nicely with our objective of increasing dividend and interest growth by reinvesting 50% of earnings back into the My Mortgage ATM and distributing the other 50% to supplement our Mortgage payment.
Remember, slow and steady will always win the race when it come to increasing wealth and financial security.
Once again, remember, this is a fun educational portfolio example to show how a taxable brokerage account with high yield investments can reduce the amount of dollars you are required to provide each month for your household expenses.
Full Disclosure:
I am not an Investment Advisor and I offer the Mortgage ATM as an example of how to work with a portfolio for educational purposes.
Investing in the stock market is RISKY and you can lose REAL MONEY! Always conduct your own due diligence or seek the advice of an Investment Adviser, before investing your hard earned DOLLARS.
A well-diversified portfolio with attention to asset allocations and position sizing will go a long way to mitigate market risk!
Next portfolio update will be in August; however, I will provide weekly updates in the comment thread.
If anyone has a question please forward and I'll do my best to answer to provide an answer.
Best wishes and hope all has a wonderful 4th of July! gratian
Disclosure: The author is long ORC, PSEC, LTS, ARCP.
Additional disclosure: I wrote this article myself, and it expresses my own opinions. I am not receiving compensation for this instablog article. I have no business relationship with any company whose stock is mentioned in this article.