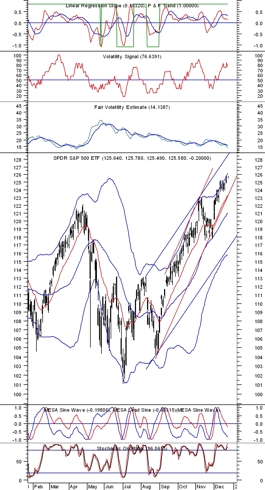 -Implied mean volatility was 13.6 for SPY as of 12/22/2010, according to IVolatility.com, which I would say is at fair value compared to my Fair Volatility Estimate (NYSE:
FVE
) indicator's value of 14.1. 
-FVE's previous low of 13.1 was right before the violent correction SPY went through back in April of this year. In recent history, FVE's lowest value of 10.5 was recorded in 10/26/2006.
 
-With volatility so low and options market makers looking to take profits a few days before and/or after the New Year, it may seem like an opportune time to look to go long options. However, I would wait for a triggering event, fundamental news or bearish signals from of my technical indicators.
 
-GLD position short Jan 142 call / long Jan 132 put (0.18 credit) put on 12/13 remains profitable. Expect GLD to fall sharply should it break below 50 day moving average, value around 133.8.