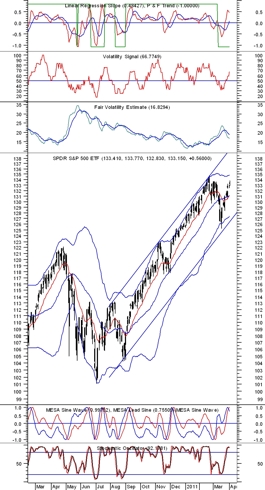 - SPY has rebounded sharply the past 2 weeks. I'm inclined to think that this was a bounce from short-term oversold levels, and not the same continuation of a stampeding bull-market that we have seen since Aug 2010.
- If I'm right, now is the right time to put on a short-term bearish bet, for example, buying April 133/130 1x2 put spread for under 0.30.
- FVE indicator's value is at 16.8 and while it's below its moving average, it is significantly above IV Index mean of 14.77% as of Friday's close. So the risk vs reward payout is, I believe, in SPY bears' favor.
- I do not like to buy VXX (it is better to find opportunitites to sell VXX) but for a short-term trade (few days), I'd look for good entry points to buy VXX intraday, especially under $29.