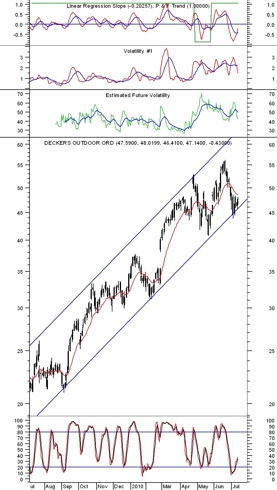 - Following the pattern of previously strong stocks (strong YTD performers)breaking down, Deckers Outdoors Corp. (NASDAQ:
DECK
) stock is in danger of breaking below its long established bull trend. Two days ago, I noted SKX as being vulnerable to a breakdown. The stock is down a further 7% last 2 days.
-DECK is another footwear company, seller of famous UGG brand. Retail sales number have been weaker than expected the past two months and recent economic indicators are definitely pointing to momentum loss in domestic economy's growth. As economy comes out of recession, consumers buy premium shoes on pent up demand and to feel good about themselves. But as consumers' disposable income remains weak, they can't justify buying $100+ shoes. DECK stock has also benefitted from UGG shoes having been one of the hottest consumer trend products the past few years. I would bet that UGGs would no longer be a must have product this winter in the U.S. Furthermore, production costs in China probably increased due to currency appreciation and higher labor cost.
-DECK is set to announce earnings on July 22. The implied volatility on Aug options are high. I would recommend buying Sep 45/35 put spread for $2.90 or selling the Aug 45/50 call spread for $1.90.
Disclosure:
No positions