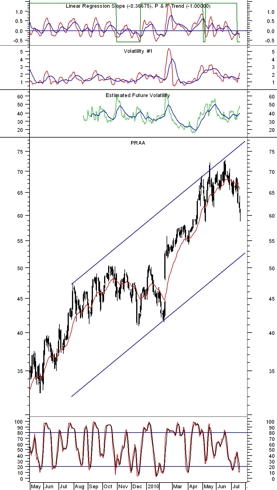 - On July 12, FTC Issues Report on Reforming Debt Collection Litigation and Arbitration; Recommends Steps to Protect Consumers and Repair a Broken System (
http://www.ftc.gov/opa/index.shtml
).
Legislators pledge to fix state's 'broken' debt collection system (
http://www.startribune.com/investigators/98380794.html
) in Minnesota. Massachusetts Senate passes debt collection measure (
http://www.boston.com/business/personalfinance/articles/2010/07/21/senate_passes_debt_collection_measure/
). More and more states are likely to introduce legislation giving consumers more protection against debt collectors.
-The uncertainty and likely negative environment for Portfolio Recovery Associates Inc. (NASDAQ:
PRAA
) is causing it's stock price to drop, and I believe it will continue to do so until support area of around $50. Unfortunately, the spread on options prices in PRAA is too wide and illiquid to put on a meaningful position. I would recommend looking for opportunities to short the stock on any strength.
Disclosure:
No positions