GeoVax Reports 1Q13 Financial Results
On May 2, 2013, GeoVax Labs, Inc. (OTCQB:GOVX) reported its financial results for the three months ended March 31, 2013 and provided a clinical development update.
Net revenues were $797,040 for the three months ended March 31, 2013, related to its grants from the National Institutes of Health (NIH) in support of its HIV/AIDS vaccine development efforts. This compares to $854,063 of grant revenue reported for the same period in 2012. As of March 31, 2013, there is approximately $2.2 million of unused grant funds available for use through August 31, 2013 (the end of the original project periods).
Research and development (R&D) expenses were $881,988 for the three months ended March 31, 2013, compared with $1,072,354 for the comparable period in 2012. R&D expenses include direct costs funded by the NIH grants, as well as vaccine manufacturing costs and expenses related to the Phase I/II clinical trial, of the Company's therapeutic HIV vaccine. Costs associated with the clinical trials of GeoVax's preventative HIV vaccine, being conducted by the HIV Vaccine Trials Network (HVTN), are being funded directly by the NIH and are therefore not reflected in GeoVax's financial statements.
General and administrative (G&A) expenses were $612,943 and $512,818 for the three months ended March 31, 2013 and 2012, respectively.
Net loss for the three months ended March 31, 2013 was $696,797, or $0.03 per share, based on 20.2 million weighted average shares outstanding, compared to net loss of $730,513, or $0.04 per share, based on 16.7 million weighted average shares outstanding for the three months ended March 31, 2012.
As of March 31, 2013, GeoVax held cash of $1,751,436, compared to $1,035,925 at December 31, 2012. The Company strengthened its cash position through the exercise of $1.1 million of existing stock purchase warrants in the first quarter of 2013.
We believe fundraising will be an area of focus for management for the remainder of 2013. Management has indicated that in addition to equity capital, they are also seeking other sources of funding through additional government and/or third party support of its programs.
GeoVax is On Track to Advance its HIV/AIDS Vaccine Programs in 2013
Therapeutic Vaccine Program
GeoVax completed at the end of 2012 patient enrollment for the Phase I/II "treatment interruption" clinical trial, investigating the Company's therapeutic vaccine's ability to treat individuals already infected with HIV; data expected in 2H2013. The primary goals of this 9-patient clinical trial are to document the safety and immunogenicity of the vaccine in patients with well-controlled infections. Vaccine efficacy will be directly assessed through a brief period of anti-retroviral drug cessation. These results might indicate the vaccine's potential ability to treat HIV infection either as a standalone therapy or in conjunction with an oral drug regimen.
In 2013, GeoVax plans to initiate a Phase I clinical trial in the treatment of HIV-positive young adults with the Company's therapeutic vaccine in combination with standard-of-care drug therapy. The NIH has recently prioritized searching for a cure for those individuals who are HIV positive. Because of the mechanisms by which current oral drugs work, if the virus is in a latent phase these drugs are not effective, thus it is impossible to totally eradicate the virus. Current approaches to a cure include using an effective vaccine and oral medication together to more effectively eradicate virus. This trial is planned to have two groups of 24 participants, one of which will remain on drugs while being vaccinated and the second of which will remain on drugs but receive placebo. The participants will be monitored for vaccine-associated reductions in viral reservoirs (recesses where the virus resides without replication). GeoVax expects this trial to be conducted by the International Maternal Pediatric Adolescent AIDS Clinical Trial Group (IMPAACT) with financial support from the NIH.
Preventive Vaccine Program
First generation vaccine: The Phase IIa trial (HVTN 205) of GeoVax's first generation preventive HIV/AIDS vaccine has been completed. Results of this trial were presented in September 2012 by the HIV Vaccine Trials Network (HVTN) at the AIDS Vaccine 2012 Conference in Boston. HVTN 205 confirmed the Phase I results, with the GeoVax vaccine demonstrating an excellent safety profile and reproducible T cell and antibody immune responses. The Company expects formal publication of the full study results by the end of 2013.
GeoVax completed in December 2012 patient enrollment for the Phase I clinical trial testing the safety of the Company's second-generation vaccine. This vaccine co-expresses granulocyte-macrophage colony-stimulating factor (GM-CSF) as an adjuvant and achieved a much higher level of prevention of infection than unadjuvanted vaccine in non-human primate testing. The 48-patient clinical trial assesses safety and immunogenicity of the vaccine at low-dose and full-dose regimens. This trial should be completed in 2013, setting the stage for a Phase II efficacy trial to begin in 2014. GeoVax is actively discussing this study's design and protocol with the HIV Vaccine Trials Network (HVTN).
We think GeoVax has made great progress in its HIV/AIDS vaccine clinical programs. We are especially pleased to see that the Company is planning a new clinical trial combining its HIV/AIDS therapeutic vaccine with AIDS drugs in 2013. This will provide a new big market for the Company's vaccine.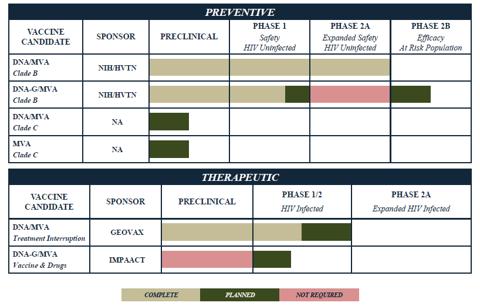 Valuation is Attractive at Current Market Price
GeoVax has developed the technology for the development of both preventive and therapeutic HIV/AIDS vaccines. The Company's vaccine candidates have completed Phase IIa and will enter into Phase IIb clinical trials soon, which are the only HIV vaccines for America/Europe entering efficacy trial.
The Company has a modest cash burn rate ($4 to $5 million annually) due to generous government support. Down the road, we believe GeoVax will continue to seek non-dilutive government and non-government support for its HIV vaccine development. If the Phase IIb trial proves to be positive, we believe it would be likely for the Company to find a partner from big pharma or biotech companies who seek to boost or enter into the anti-HIV/AIDS market.
GeoVax has a strong position in intellectual property. The excellent relationship with Emory University put the Company in a better position to get the most advanced vaccine technology in the first hand, therefore providing a sustainable growth engine for the Company.
Based on the current fundamentals of the Company, we believe current valuation is attractive. With a decent pipeline and mid-stage candidates, GeoVax is only valued at about $10 million in market cap. This is a huge discount in our view. We understand that HIV/AIDS vaccines have been tough to develop and that this is a high risk area for any biotech company especially for smaller ones with limited resources. However, we think GeoVax has done great job so far in the HIV/AIDS vaccine area and is well positioned to continue to create shareholder value down the road.
We see GeoVax as a risk reward opportunity with significant long term positive returns. We think GeoVax should be valued at $1.50 per share which represents a market cap of $30 million.
Disclosure: I have no positions in any stocks mentioned, and no plans to initiate any positions within the next 72 hours.