Mirati: An US Company With Targeted Therapy In Focus
Jul. 16, 2013 12:54 PM ET
Please Note: Blog posts are not selected, edited or screened by Seeking Alpha editors.
List on NASDAQ Provides Improved Visibility and Liquidity
On July 15, 2013, Mirati Therapeutics Inc. (MRTX) began to trade on the NASDAQ Capital Market under the ticker symbol MRTX.
Mirati Therapeutics is focused on the development of novel therapeutics for the treatment of cancer. "Mirati" means "targeted" in Italian and reflects the new company's focus: targeted therapeutics, targeted patient selection, and targeted execution that drives value.
As a reminder, on May 9, 2013, MethylGene announced that its Board of Directors has unanimously approved a proposal to change MethylGene's jurisdiction of incorporation from the federal jurisdiction of Canada to the State of Delaware in the US.
Under the Arrangement, MethylGene will create a holding corporation, Mirati Therapeutics, Inc., incorporated in the State of Delaware, and Mirati will become the ultimate parent corporation of MethylGene and its subsidiaries. Concurrently with the Arrangement, Mirati is making an application to list its shares of common stock on the NASDAQ Capital Market, which will result in the Mirati Shares being listed on both NASDAQ and the Toronto Stock Exchange (TSX) for a period of time.
Mirati is headquartered in the San Diego, California, with offices in Princeton, New Jersey and Montreal, Canada.
Mirati is advancing three exciting oncology programs MGCD265, mocetinostat and MGCD516 which were all discovered and developed internally.

We think the incorporation in the US/list on NASDAQ is important to Mirati. It will improve Mirati's ability to attract financing in the larger U.S. capital markets from a greater number of U.S. investors. It will also raise the visibility of the Company and enhance the trading liquidity and marketability of the Company's stocks. It will eliminate potentially adverse "passive foreign investment company" tax issues for certain US shareholders.
Mirati is now better positioned to see the promise of MGCD265, mocetinostat and MGCD516 translate into significant new medicines to address the unmet needs of cancer patients.
Positive Clinical Data Mocetinostat Were Presented at the 2013 ASCO
On June 3, 2013, Mirati presented clinical data for mocetinostat at the 2013 ASCO Annual Meeting in Chicago, Illinois.
Mocetinostat is an orally available, isoform selective histone deacetylase (HDAC) inhibitor. Based on the promising early phase single agent responses in patients with Hodgkin's disease Mirati is evaluating Phase II study designs in these patients. In addition, the company is evaluating plans for development of this agent in combination with azacitidine for the treatment of patients with intermediate and high risk myelodysplastic syndromes (MDS).
Mocetinostat is partnered with Taiho Pharmaceutical for selected Asian Territories.
Mocetinostat in Combination with 5-Azacitidine for Patients with MDS
Poster #7116: A Phase II Study of Mocetinostat, An Oral Isotope-Specific Histone Deacetylase (HDAC) Inhibitor, in Combination with 5-Azacitidine in Patients with Myelodysplastic Syndrome (MDS)
Data was presented from an open-label phase II combination trial in patients with MDS or acute myeloid leukemia (AML). The population included twenty-eight MDS patients who were categorized as relatively poor risk and thirty-eight AML patients. Mocetinostat in combination with 5‐AZA is active in MDS and AML.
The Objective Response Rate (ORR) (defined as Complete Response (CR) + Complete Response with incomplete blood count recovery (CRi) + Hematological Improvement (HI)) was 61% in the MDS cohorts and 32% in the AML patients;
The disease control rate (ORR + stable disease) was 93% in the MDS group and 84% in the AML patients;
Approximately two‐thirds of highest‐risk MDS patients achieved a best response of CR or Cri;
Median overall survival (OS) was 12.9 months (1.9‐62) in MDS and 5.1months (0.5‐30.7) in AML;
Approximately two‐thirds of both MDS and AML patients remained progression‐free on study;
Combined therapy with mocetinostat and 5‐AZA produced clinically meaningful reductions in bone marrow blasts that continued to improve in successive treatment cycle;
The most common drug‐related toxicities ≥ grades 3 were fatigue, thrombocytopenia, anemia and gastrointestinal events. There were no treatment‐related deaths.
The clinical and safety findings among the study population, which included a significant percentage of high‐risk patients, support further development of mocetinostat in MDS and AML.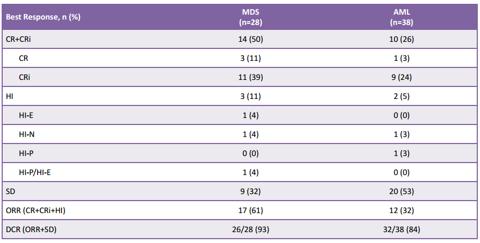 Mocetinostat Single Agent for Patients with Lymphomas
Poster #8535: A Phase II Study of Single Agent Mocetinostat, An Oral Isotype-Selective Histone Deacetylase (HDAC) Inhibitor, In Patients With Diffuse Large B-Cell (DLBCL) And Follicular (FL) Lymphomas:
Data was presented from a Phase II open label multicenter mocetinostat monotherapy trial in a population of seventy-two patients treated with 70 mg - 110 mg mocetinostat monotherapy on a 3x/week schedule.
Highlights of the Phase II findings:
Single agent mocetinostat has clinical activity in DLBCL and FL;
Objective response rate (ORR): 17% in DLBCL, 10% in FL;
Disease control rate (DCR): 49% in DLBCL, 61% in FL;
Estimated median OS was 8.3mos in the DLBCL cohort and was not reached in the FL cohort;
Estimated median PFS was 2.7mos in the DLBCL cohort and 4mos in the FL cohort;
Reduction in tumor size was observed in ~70% of the overall population;
HDAC inhibition up to 45% was demonstrated in a whole‐cell assay;
Results compare favorably with historical results achieved with single‐agent chemotherapy drugs in a similar patient population;
The most common drug-related toxicities of grade 3 or higher were fatigue, neutropenia, thrombocytopenia, anemia and hypophosphatemia. Discontinuation due to AE was dose‐related and occurred in 19/72 patients (26%).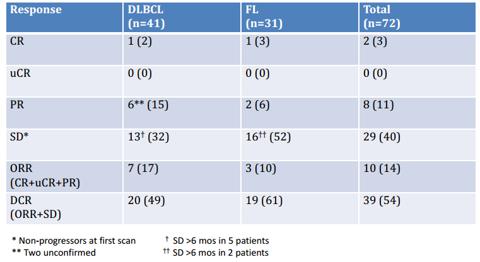 We think the data presented at the ASCO meeting are encouraging. These data have demonstrated further favorable safety and efficacious clinical activity of mocetinostat as a single agent as well as in combination with other anticancer agents.
The data support the view that mocetinostat has clinical activity as monotherapy and in combination and that further evaluation is warranted. The company is working with investigators and the FDA to establish the optimal path forward for mocetinostat.
We believe mocetinostat alone or in combination has the potential to provide additional treatment options for patients of MDS and lymphomas.
Disclosure: I have no positions in any stocks mentioned, and no plans to initiate any positions within the next 72 hours.
Seeking Alpha's Disclosure: Past performance is no guarantee of future results. No recommendation or advice is being given as to whether any investment is suitable for a particular investor. Any views or opinions expressed above may not reflect those of Seeking Alpha as a whole. Seeking Alpha is not a licensed securities dealer, broker or US investment adviser or investment bank. Our analysts are third party authors that include both professional investors and individual investors who may not be licensed or certified by any institute or regulatory body.