Arrowhead: There Is Still Room For Further Share Price Appreciation
Please Note: Blog posts are not selected, edited or screened by Seeking Alpha editors.
Biotech
Seeking Alpha Analyst Since 2010
Grant Zeng has over 10 years of professional experience in equity research and analysis. Grant joined Zacks Investment Research Inc. in March 2006, and currently is a senior equity analyst covering biotech/pharma industry. Before joining Zacks, Grant worked for TheStreet.com as a biotech analyst from 2005-2006. From Sept 2001 to December 2003, Grant worked for China Pacific Insurance Co. as an senior equity/fund analyst. Grant was a healthcare equity analyst with Young & Partners, LLC from Aug 2000 to September 2001. Grant had also teaching and researching experience in pharmaceutical science. Grant Zeng obtained his MBA with a major in Finance in 2000 from McMaster University, Canada. He also holds a Master of Science in Biochemistry from the University of Western Ontario, Canada; Master of Pharmacology and Bachelor of Medicine from Second Military Medical University, China. Grant Zeng is a Chartered Financial Analyst (CFA) charter holder.
Arrowhead Is On Track To Advance ARC-520 For HBV
On July 23, 2013, Arrowhead Research Corporation (ARWR) began dosing in a Phase I clinical trial of ARC-520, the Company's candidate for the treatment of chronic hepatitis B virus (HBV) infection in Australia.
The Background of ARC-520
ARC-520 is an RNAi-based therapeutic in development by Arrowhead for the treatment of hepatitis B virus (HBV) infection using the Company's Dynamic Polyconjugate (DPC) technology.
ARC-520 consists of two siRNA (siHBV-74 and siHBV-77) trigger molecules which target a sequence that is shared by all four of the mRNAs produced by the HB virus. The targeted sequence is highly conserved across HBV. The duplexes provide coverage of over 99.6% of known sequences. These RNAi triggers incorporate structural modifications to enhance stability in biological fluids and are conjugated to cholesterol, which acts as a liver-targeting group. These conjugated RNAi triggers (siHBV-74 and siHBV-77) are co-injected with a targeted endsomolytic agent, NAG-MLP. NAG-MLP is composed of the amphipathic polymer bee venom melittin, to which the targeting ligand N-acetylgalactosamine has been attached via acid-sensitive linkers. Once the siRNAs and the active excipient are taken up by the hepatocytes, the polymeric amines are unmasked in the endosome and disrupt the endosomal membrane, releasing the siRNA to the cytoplasm where it can engage the RNAi machinery of the cell.
The siRNAs in ARC-520 target the mRNAs that produce HBsAg proteins, the viral polymerase, the core protein that forms the capsid, and the HBeAg.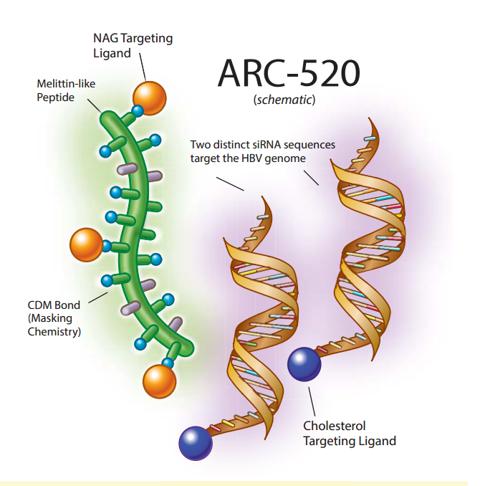 Preclinical Studies
Arrowhead has evaluated ARC-520 in multiple animal models of HBV infection. The first experiment was performed in a non-transgenic mouse model of HBV infection. Co-injection of siHBV-74, siHBV-77 and NAG-MLP provided a 3 log reduction in serum viral RNA, a 3-4 log reduction in serum Hepatitis B virus surface antigen (HBsAg), and reduced Hepatitis B envelope antigen (HBeAg) to the lower limit of detection. These serum markers of HBV replication remained suppressed for over a month after a single injection. In a related study in a transgenic mouse model of HBV infection, liver mRNA encoding HBsAg was reduced almost to the limit of detection. A 91% reduction in the level of the two viral 3.5 kb mRNAs was observed as well.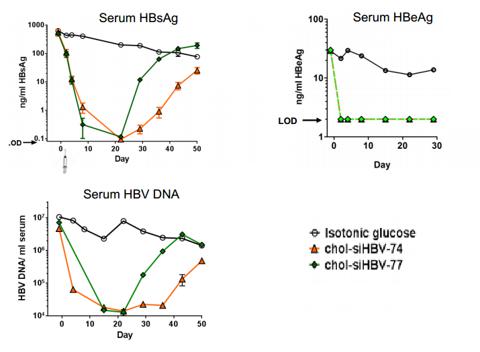 In March 2013, Arrowhead announced the results of a study performed in a chimpanzee chronically infected with hepatitis B virus. This particular animal represented an unusually challenging model as it had previously been exposed to multiple HBV drugs, had exceptionally high circulating HBV viral load and HBsAg, and had nearly 100% of hepatocytes infected as determined by biopsy. Lastly, the HBV strain contained a mismatch to one of the two siRNA triggers present in ARC-520. Co-injection of NAG-MLP, Chol-siHBV-74, and Chol-siHBV-77 on Day 0 and Day 15 provided 90-95% reductions in circulating HBV DNA, HBsAg, and HBeAg. ARC-520 was well tolerated with no changes in LFTs after two doses.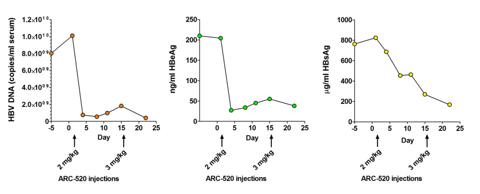 The Current Phase I Study
The Phase I trial is a single-center, randomized, double-blind, placebo-controlled, single dose-escalation, first-in-human study of ARC-520 administered intravenously to healthy adult volunteers and is being conducted in Melbourne, Australia. Each dose cohort includes 6 subjects randomized at ratio of 1:2 (placebo: active) to receive a single intravenous injection of either placebo or ARC-520.
The Phase I is expected to be complete in the 4Q2013, and the Company is planning on following it immediately with a Phase IIa in HBV patients in Hong Kong in early 2014. A Phase IIb study of ARC-520 will begin in the second half of 2014.
This Phase I study will establish a safety profile for ARC-520 as well as provide the first human data for Arrowhead's DPC delivery platform.
We think ARC-520 is the primary value driver in near- and mid-term for Arrowhead. The successful development of ARC-520 is critical to Arrowhead because the HBV market offers opportunities for substantial revenues, and because validation of the Company's RNAi delivery technology opens broad opportunities both for other therapeutic programs and licensing opportunities.
In this regard, the initiation of the Phase I study of ARC-520 represents an important milestone for Arrowhead in achieving its long term growth goal.
Market Opportunity for ARC-520
Currently seven drugs are available in the US for the treatment of HBV. They are classified as two classes:
Interferons include Pegasys and Intron A,
Nucleosides/Nucleosides include Lamivudine, Telbivudine, Entecavir, Tenofovir, and Adefovir dipivoxil.
Brand Name

Generic Name

Company

Approval

Year

Patent Expiration

2012 WW Sales

Pegasys

pegylated α-interferon-2a

Roche

2005

2018

$692M

Intron A

α-interferon-2b

Roche

1992

2002

< $5M

Viread

tenofovir

Gilead

2008

2018

$701M

Tyzeka

telbivudine

Novartis

2006

2019

$136M

Hepsera

Adenovir

Gilead

2002

2014

$108M

Epivir

lamivudine

GSK

1998

2010

$13M

Barraclude

entecavir

Bristol-Myers

2005

2015

$1388M
Drug

Admin.

Treatment

Duration

Tolerability

Resistance

Develop.

Efficacy of Treatment on

 
 
 
 
 

Viral Load

HBeAg

HBsAg

Pegasys

Sub-Q

1 Year

Poor

Very Good

Fair

Fair

Poor

Intron A

Sub-Q

1 Year

Poor

Very Good

Fair

Fair

Poor

Barraclude

Oral

Indefinite

Good

Good

Good

Poor

Poor

Tyzeka

Oral

Indefinite

Good

Fair

Good

Poor

Poor

Hepsera

Oral

Indefinite

Good

Good

Poor

Poor

Poor

Epivir

Oral

Indefinite

Good

Poor

Fair

Poor

Poor

Viread

Oral

Indefinite

Good

Good

Good

Poor

Poor
None of the above available treatment options offers a significant opportunity for HBsAg clearance, which is considered a functional cure.
In summary, treatment with peginterferon provides a modest chance at a long term sustained response, but is associated with severe side effects in a treatment regimen that generally lasts a full year. Nucleosides and nucleotides dramatically reduce viral load and have a mild side effect profile, but must be taken for many years or for life, because viral rebound usually occurs when therapy is stopped. Furthermore, nucleotides have only a modest effect on other markers of infection such as HBeAg and HBsAg.
The observation that peginterferon is much more likely to provide a sustained post-treatment antiviral response than nucleotides in spite of its more modest effect on serum viral load, suggests that approaches that reduce viral replication and accelerate clearance of infected hepatocytes are more likely to be successful in producing a post-treatment sustained response, HBeAg seroconversion, and possibly HBsAg seroconversion as well. A treatment that shared interferon's ability to enhance immune system-mediated clearance of infected hepatocytes without its severe side effect profile would be a valuable addition to the armamentarium of anti-HBV drugs.
Apparently, HBV market represents a multi-billion dollar opportunity and current therapeutic regimes have limitations. There is an unmet medical need for HBV patients, especially for patients with chronic HBV infection. Any new medicine with increased efficacy and/or safety profile will be in high demand.
ARC-520 is a siRNA therapeutic in development which may provide a meaningful alternative for the treatment of chronic HBV. ARC-520 has a differentiated mechanism of action compared to that of existing anti-HBV drugs. The mechanism of RNA interference could provide a powerful new treatment for hepatitis B through the unique ability to specifically reduce the amount of circulating HBV antigens.
ARC-520 has already demonstrated the ability to reduce HBsAg, HBeAg, and viral DNA dramatically in multiple animal models with excellent safety profile. With the data from chimpanzees, we expect to see similar data in human trials.
Diversified Pipeline Based On Three Platform Technologies
In addition to ARC-520, Arrowhead has built a diversified pipeline based on its key three platform technologies. The pipeline targets a variety of indications ranging from infectious disease, to cancer and to obesity. A diversified portfolio reduces development risks when managed appropriately.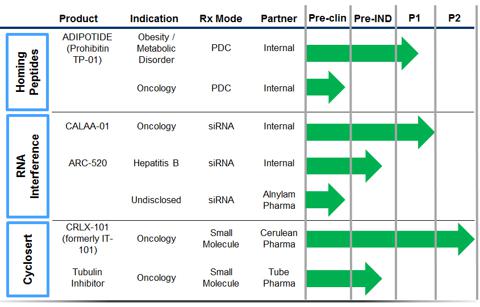 Valuation is still Attractive
Since we initiated the coverage of Arrowhead in late June 2013, share price has appreciated 42% as of July 23, 2013. We think there is still enough room for further appreciation.
Currently, Arrowhead shares are trading at around $2.80 per share, which values the Company at about $100 million in market cap based on 36 million outstanding shares. This is certainly a deep discount.
Most small biotech companies of development stage are valued from $50 million to $500 million depending on how advanced the pipeline is and which indications the company is targeting. Arrowhead has built a diversified pipeline and its three lead candidates are all in Phase I studies and will enter Phase II soon. The Company's anti-HBV drug candidate ARC-520 has demonstrated compelling efficacy data and safety profile in animal studies and has the potential for functional cure of HBV infection. We estimate that ARC-520 could be approved in the US in 2017 and has a blockbuster potential.
We estimate Arrowhead will become profitable in fiscal 2018 with an EPS of $0.08 based on revenue of $55 million. And revenue will grow to $100 million in fiscal year of 2019 with an EPS of $0.38. We think a P/E ratio of 40x is appropriate for Arrowhead considering its growth in the next few years. Based on this P/E multiple, we think Arrowhead should be valued at $5.00 per share using 25% discount for 5 years. Our price target values Arrowhead at $180 million in market cap, which we think is conservative compared to its peers.
| | | | | | | | |
| --- | --- | --- | --- | --- | --- | --- | --- |
| Name | Ticker | Share Price | Market Cap ($million) | Phase I | Phase II | Phase III | Marketed Products |
|   |   |   |   |   |   |   |   |
| Isis | ISIS | $29.12 | $3,020 | 5 | 15 | 2 | 1 |
| Alnylam | ALNY | $45.31 | $2,820 | 4 | 3 | 0 | 0 |
| Regulus | RGLS | $10.12 | $364 | 0 | 0 | 0 | 0 |
| Tekmira | TKMR | $4.93 | $73 | 3 | 2 | 0 | 0 |
| Sarepta | SRPT | $46.43 | $1,480 | 3 | 1 | 0 | 0 |
| RXi | RXII | $0.15 | $50 | 1 | 0 | 0 | 0 |
| Bio-Path | BPTH | $0.49 | $31 | 1 | 0 | 0 | 0 |
| Arrowhead | ARWR | $2.80 | $101 | 2 | 1 | 0 | 0 |
|   |   |   |   |   |   |   |   |
| Average |   | $17.42 | $992.38 |   |   |   |   |
Disclosure: I have no positions in any stocks mentioned, and no plans to initiate any positions within the next 72 hours.
Seeking Alpha's Disclosure: Past performance is no guarantee of future results. No recommendation or advice is being given as to whether any investment is suitable for a particular investor. Any views or opinions expressed above may not reflect those of Seeking Alpha as a whole. Seeking Alpha is not a licensed securities dealer, broker or US investment adviser or investment bank. Our analysts are third party authors that include both professional investors and individual investors who may not be licensed or certified by any institute or regulatory body.