Pressure BioSciences (OTC:PBIO) is a research products and services provider for the life science industry. The Company is engaged in the research, development and commercialization of a novel, enabling platform technology called pressure cycling technology (PCT).
Proprietary Platform Technology with Competitive Advantages
PCT uses cycles of hydrostatic pressure between ambient and ultra-high levels (≥35,000 psi) to control bio-molecular interactions. The current product portfolio includes Barocyclers, PCT based instruments, and consumables. The Company also launched SG3 Shredder kits recently. The instruments and the consumables together make up the PCT Sample Preparation System (PCT SPS). The system follows the highly successful and profitable "razor and blade" business model.
The Company's PCT SPS has competitive advantages over existing technologies in the sample preparation market. PBIO continues to make progress in pushing the technology from the conventional use in life science labs into new application areas such as in the agricultural and forensic industry.
PCT Sample Preparation System (PCT SPS) is now increasingly being recognized by many research labs as a novel and paradigm shifting sample preparation method due to its superiority and PBIO's focused marketing efforts.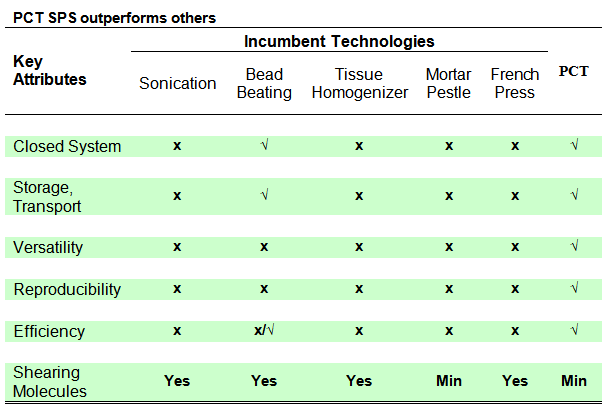 The Niche Market, Rather Large but Underserved
PBIO is currently targeting the life science research products and services market, which is a multi-billion dollar market. The market is still growing rapidly, although there have been some negative events developing in the life science industry in recent years such as the restructuring and consolidation in pharmaceutical/biotech industry and reduction of government research grant for medical research in the US. On the other hand, the downsize of research spending in the US has been offset by increased research spending in other parts of the world especially in emerging markets such as in China and India.
Pressure BioSciences elected to initially focus its resources on the market of genomic, proteomic, and small molecule sample preparation because sample preparation:
is a rapidly growing market;
has a large and immediate need for better technology;
is comprised mostly of research laboratories, which are subject to minimal governmental regulation;
is compatible with its technical core competency; and
is the area in which the Company has strong patent protection.
The Company's instrumentations and consumable products fill an important and growing need in the sample preparation market for the safe, rapid, versatile, reproducible, and quality extraction of nucleic acids, proteins, and small molecules from a wide variety of plant and animal cells and tissues.
The research products and services market is rapidly growing with a large and immediate need for better technology, which will create a huge opportunity for PBIO to grow its business in the coming years.
Second Half Financials are Better than First Half in 2011
PBIO had a disappointing first half of 2011. Sales declined 4.5% and 32.7% respectively in 1Q11 and 2Q11. This poor performance was mainly due to the leave of its VP Sales in early May 2011. In addition, sales and marketing activities were limited during the first two quarters of 2011 as a result of limited financial resources.
However, the Company reported better than expected financial results for the 3Q11.
PCT revenue was $0.22 million for the three months ended September 30, 2011 as compared to $0.19 million during the three months ended September 30, 2010, an increase of 11.8% quarter over quarter. PCT sales for 3Q11 also increased from first quarter and second quarter of 2011.
PBIO generated new revenue in 3Q11from SG3 Shredder product launch. SG3 sales will continue to be a meaningful revenue contributor from now on. SG3 has a higher profit margin, as a result, gross margin increased from 53% in 3Q10 to 54% in 3Q11.
PBIO also has made great progress in raising funds to fund its operations. In November, 2011, PBIO raised about $843k in a registered direct offering of convertible preferred stock. In October, the Company received $649k grant from Department of Defense for the development of automated, high-throughput PCT-based system. In September, PBIO received a grant of $160,978 from NIH for the development of automated pressure-enhanced system for the routine processing of cancer and other tissue samples. These grants are important for PBIO, not only they provide timely non-dilutive funding for the Company, but also they validate the Company's PCT platform technology.
Management expects 4Q11 financial results will be even better. The Company has recovered, at least partly, from the shock of first half of 2011 in our view.
Two Distribution Agreements May Boost PBIO's Sales Immediately
On January 11, 2012, PBIO and Digilab, Inc. entered into a co-marketing/selling and research and development agreement. The companies intend to co-market and sell their respective product lines worldwide, including in industry publications, at scientific meetings, on each company's website, through common collaborator studies, at key industry trade shows, and in visits to customer sites. PBIO and Digilab also intend to explore ways to co-develop new instrumentation, accessories/modules for existing instrumentation, and consumables that combine the robotics and high throughput capabilities of Digilab products with the extraction, protein digestion, and other advantages of PBIO's Pressure Cycling Technology (PCT) Platform.
A combination of the two company's respective proprietary technology platforms will provide scientists with an improved, more reproducible, integrated workflow to better address important sample preparation issues that are routinely encountered by scientists in the estimated 80,000 biological research laboratories worldwide.
We think the synergy between the two companies come from two major factors:
Ø Both PBIO and Digilab target the same sample preparation market.
The two companies routinely attend many of the same scientific meetings, advertise in many of the same media outlets, and collaborate with many of the same thought leaders in the field.
Digilab's suite of sample preparation, liquid handling, and identification products, coupled with PBIO's unique PCT products, will offer the research scientist greatly enhanced sample preparation tools with a higher degree of reproducibility, versatility, throughput, and overall quality than currently available.
Ø Marketing efforts will be greatly enhanced with each other.
PBIO's sales and marketing activities are currently performed with four dedicated staff members and three distribution partners. These efforts will be greatly enhanced by the Digilab's sales and marketing team of five staff members and their broad distribution network of over twenty distributors worldwide. Similarly, PBIO's sales and marketing team will assist Digilab in broadening the reach of their sales activities.
Consequently, this alliance will greatly facilitate the introduction of the two company's respective sample preparation product lines to research labs worldwide, but without the need to increase sales staff, marketing budgets, and time at scientific meetings.
In December 2011, PBIO also entered into a distribution agreement with Germany-based life sciences company
IUL Instruments GmbH
. Under the terms of the agreement, IUL will have the exclusive right to market and sell PBIO's Pressure Cycling Technology (
PCT
) sample preparation instruments and consumables in Germany and Switzerland. In addition, IUL will have the non-exclusive right to market and sell PBIO's recently released, mechanical homogenization device, the Shredder SG3, and its associated consumables, in the same two countries.
We think the two agreements is great news to PBIO investors. This is a cost-effective way to significantly increase PBIO's market penetration and increase sales. We expect to see incremental sales results during the first half of 2012.
On the operational front, PBIO remained on track to release its pressure-enhanced formalin-fixed, paraffin-embedded (FFPE) protein extraction service in late 2012.
In terms of financing, PBIO has filed and been granted a three year, S-3 shelf registration for up to $15 million, so that the Company will have access to funds, if needed.
What do All These Mean for PBIO and its Investors?
Clearly, things are getting better at PBIO now than they have been in over a year. It looks like that the Company may have turned the corner and is poised to grow better in 2012.
This may benefit its shareholders. The Company's shares may be undervalued at this point. Currently, PBIO's shares are trading at about $0.70 per share, which values the company at $4.5 million in market cap. It looks very cheap if one considers the stock is still down to a third of its price a year ago. There is a lot of room for share price appreciation if the Company can increase its revenue in 2012 as expected.
However, one must realize that PBIO is still in the early stage of commercialization of its PCT technology and related products. It takes time for research labs to recognize PCT's superiority and advantages. Therefore, initial slow sales are understandable and acceptable. Sales may continue to vary in the short term. But in the long run, one should expect to see a relatively stable growth of revenue from PCT equipments and consumables year over year.
Disclosure: I have no positions in any stocks mentioned, and no plans to initiate any positions within the next 72 hours.