From Rachael Granby' s Wall street Breakfast:
'Flash crash' cause still a mystery.
Testifying before Congress yesterday, the SEC's Mary Schapiro
said
regulators have been "unable to point to a single event which could be the sole cause" of Thursday's market plunge. Despite media conjecture, there has been no evidence to suggest the trigger was either a 'fat finger' error, unusual trading in Procter & Gamble (
PG
), or trading in the E-mini S&P 500 future. Cautioning that it's still too early to draw conclusions, Schapiro suggested regulators may find that the plunge, "however it may have been triggered, was the result of a confluence of events which, taken together, exacerbated what already had been a down day." However, the CFTC's Gary Gensler said the inquiry is
focused on a single futures trader
who accounted for heavy trading volume around 10 minutes before stocks began to fall.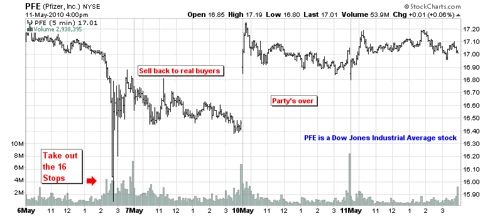 Here's a real one hundred share trade of another company's stock:
65@20.90TIME:14:56:39
14@20.90TIME:14:56:35
1@20.31TIME:14:40:55
20@20.00TIME:14:40:55
It was only a matter of time till someone decided to take a run at the stop orders.  Once the bid on the National Best Bid / Best Offer (NBBO) printed lower than the stop orders outstanding –all those stop orders without limits became market orders to be filled at unrealistic bids.  You get your algo 1 share bid to price your favorite stock to equal the cost of a gallon of gas and get a hit on the NBBO and bingo those market orders are yours for the plucking.

According to Eric Dash New York Times article: "But Bank of America, Citigroup, Goldman Sachs and JPMorgan Chase & Company produced the equivalent of four perfect games during the first quarter. Each one finished the period without losing money for even one day. Their remarkable 61-day streak is one for the record books. Perfect trading quarters on Wall Street are about as rare as perfect games in Major League Baseball."
So I guess being perfect is not enough.  Some people will do anything for money.
If  J. Randolph Babbitt, Administrator of the Federal Aviation Administration (NYSEARCA:FAA) didn't know what caused a crash and said it was just a mystery.  You probably wouldn't want to fly until you knew. But what do you want your money or your life?
Without answers and solutions, sexta puede or μπορεί να έκτης  or May 6th could be known as the day the music died (or was it just that the virtual volume was turned low for a little while).

 
Disclosure:
No current positions