"On Feb 3 1966, Luna 9 spacecraft became first to have controlled landing on the moon. We think our #SAP news today is just as big", SAP's Jonathan Becher wrote on Twitter. Certainly an exaggeration, but what does he mean?
S/4 HANA is SAP's new suite of simplified ERP software, successor to R/1 (1975), R/2 (1979), and R/3 (1993). SAP lists as unique design criteria, among others:
-- 1/10 of data footprint
-- 3-7x higher throughput
-- Up to 1800x faster analytics
-- ERP, CRM, SRM, SCM, PLM in one system (centralized data model)
-- Parallelism for throughput
-- Guided configuration
-- "Fiori-ized" user interfaces
In particular SAP HANA, a platform with a relational database management system and other functions, allows more integration than ever before, with a transactional and an analytical environment running on a single instance.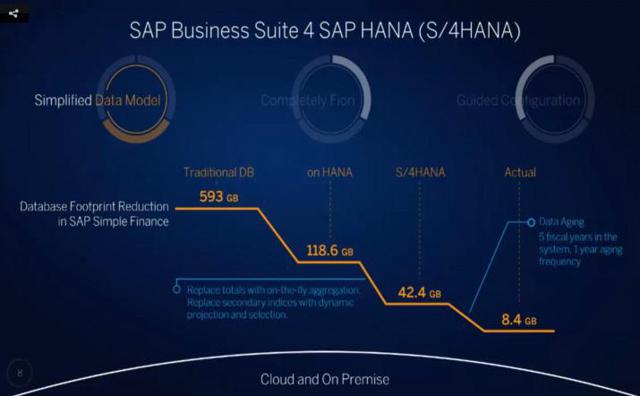 Source: SAP
There will be a configurable public cloud offering and private clouds, the latter to use legacy interfaces and customizations. The use of metadata allows customizations.
I think existing SAP Business Suite customers will be the primary target group. Additional revenue depends of HANA sales. SAP HANA was launched as public release in November 2010 and generally available by June 2011. SAP's Business Suite on HANA was announced in January 2013 and generally available by May.
The launch was successful:
HANA customers by 2012: 1,000
HANA customers by 2013: 3,000
HANA customers by 2014: 5,800 (1,850 Suite on HANA Customers, 1,200 customers on HANA cloud platform)
HANA revenue in 2011: €160 million
HANA revenue in 2012: €392 million
HANA revenue in 2013: €633 million
SAP stopped to split out the HANA specific revenue in 2014 because it is part of everything SAP does and no longer a separate category.
The company has 45,000 Business Suite customers, including many of the largest companies in the world. So far, SAP customers typically use databases from Oracle, IBM and Microsoft. Most bought their license through SAP and many may be moved to HANA. Traditional system integrators, IT service and consulting firms will lose revenue too.
Workday is often referred to as future competitor with a core ERP system. In August 2011, 23 customers* were using Workday Financials, in October 2012 30, in January 2014 70, in May 2014 above 80, and in August 2014 "closing in on" 100 customers.
In 2005, Oracle talked about the Project Fusion, an on-premise next-generation suite to bring together Oracle E-Business Suite, PeopleSoft, and JD Edwards on a services-oriented-architecture.** Oracle Fusion Applications were released at OpenWorld 2011. In June 2012, there were about 200 customers on it and a number of these customers live. In January 2013, they has more than 400 customers, two thirds of them in a SaaS model, and over 100 live. In Q1 FY2015 alone, Oracle added nearly 200 new Fusion customers, whereof 90 were customers in Fusion ERP.
SAP new suite comes some years later and has currently fewer modules than Oracle Fusion, but it is based on a more modern platform. We will see how fast it will be accepted by customers. This may be even more important for the company than its business network where 1.7 million companies are transacting more than $700 billion per year.
The announcement of S/4 HANA took some uncertainty out of the market. Today, the outlook for SAP is positive.
* http://www.bersin.com/blog/post/2011/08/Workday-14--Amazing-Enterprise-Software-for-HR.aspx
** www.eweek.com/c/a/Enterprise-Applications/Oracle-to-Take-Gradual-Approach-with-Project-Fusion/
Disclosure: The author is long SAP.