I'm about to share a story with you about a client portfolio (with his full consent) that came my way for review and management, a story that includes many key themes in portfolio management at all levels, and ultimately provides some thoughts on specific stocks that might be worth considering. 

(Please note:   This is NOT personalized financial advice. Each investor is obligated to opine and decide for his/herself as to the relevance of what is stated in this article as to his/her own unique financial profile, risk appetite and portfolio goals. This article is solely meant to be a thought provoking note on global issues that investors should throw in the mix of their own investment analysis and decisions)
The client presented me with a portfolio filled with some cash along with 34 securities, primarily stocks and a few ETF's. From a 'birds-eye-view', which is about how deep of an analysis the "do-it-yourself" investor ever did on this portfolio, it appeared to be quite diversified due the sheer quantity of different companies represented in the mix.
Upon closer scrutiny, in fact it didn't require a look too much closer to the ground than the 'birds-eye' level, it was clear that while there was some diversification, the actual risk embedded in the portfolio was quite substantial. How so? 

Of the 34 different stocks, 3 of them represented close to 50% of the dollar value exposure….and 2 out of those 3 were in the "health care" sector, more specifically, the 'big pharma' companies of Bristol-Myers Squibb and Pfizer. The third, by the way, was a "tech" name of household familiarity, IBM. From another vantage point, the portfolio actually had over 60% of the exposure solely in pharma and tech names, with the remainder spread around unevenly (and unscientifically) into industrials, consumer staples and a few telecoms, utilities and financials.
The first thought that came to my mind was that this investor probably had never been "vioxxed"! 

What's that? 

Most investors have a 'war story', often more than one, where the value of a stock that they owned got decimated due to a surprise announcement, usually referred to as "event risk". For me, that was the Vioxx experience of Merck several years ago. More specifically, on September 30, 2004, Merck surprised the world by pulling their popular arthritis and pain drug, Vioxx, from the market due to tests that reportedly linked the drug to increased chances of cardiac side-effects. The value of Merck stock dropped over 25% on the news, wiping out over $25B in the company's market value just like that! While I've lived through plenty of 'event risks', that one stood out in my mind for a variety in of reasons, most notably the up until then perceived quality of the company and its management, along with the seeming success and popularity of the Vioxx drug, and the ferocity of the stock's instantaneous selloff on the news.
So today, looking at a portfolio where close to a third of the risk was held in just 2 big-pharma names, it seemed prudent to explore some diversification of that risk and examination of the exposure in other sectors. Readers of my recent articles will know that my underlying investing premise is focused on the global infrastructure growth that appears evident in so many emerging and emerged countries around the globe which, in turn, has led to a growing demand for materials, machinery, resources, business services and technology products. In the case of this investor's portfolio, as a starting point, I looked at lightening up on the concentrated positions in the pharma names and exploring some of the names that I've mentioned in recent articles such as GE, MMM, NUE, PKX, INTC and SWK. 
Taking a look at sector performance is an important element in the process. (Source:
ChartFacts.com
)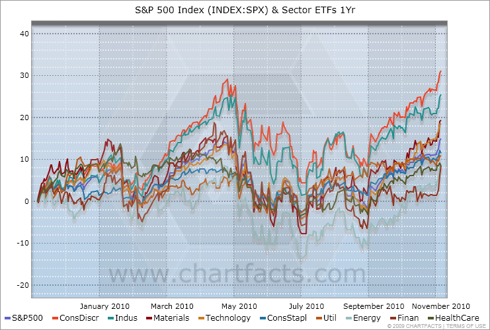 Using sector ETF's as proxies for the component sectors within the S&P, the chart above shows, by looking at the latest date on the right hand side, the order of performance over the past year from top to bottom as:
Consumer Discretionary (31.095)
Industrial (25.488)
Materials (19.356)
Technology (18.285)
Consumer Staples (11.405)
Utilities (10.708)
Energy (8.876)
Financials (8.420)
Health Care (8.336)
Noting that HealthCare underperformed the bunch doesn't by itself clamor for leaving that sector. Especially in this low interest rate environment, investor appetite for dividends could give many of these high dividend paying stocks a boost.

Furthermore, much of the sector's underperformance has to do with the expected impact on earnings due to this year's passage of healthcare reform, in addition to the usual concerns around big pharma related to patent-cliffs and the surge in popularity of generics. On healthcare reform, regardless of one's opinion on the subject, the political reality on the heels of last week's US elections is that the Republican Congress plans on pushing back aggressively on many of the reform's measures if not on the package in its entirety. In addition, portfolio managers in search of 'underperformers' could find Health Care appealing as they entertain sector rotation strategies.
So back to my investor….the net result was to prudently diversify exposure so as to reduce concentration risk and the 'event risk' that necessarily overhangs the portfolio when so much is riding on so few names. That said, we still maintained reasonable exposure in the pharma sector, but we further diversified to include other names in that space. I'm not sure that one can fully protect against getting "vioxxed", but mitigating the risk is an exercise worth considering. 
Disclaimer: Please read and consider important information related to all communication made by Soos Global on SeekingAlpha.com by clicking here
Disclosure:
Long personally or in client accounts: BMY, PFE, IBM, MRK, GE, INTC, MMM, SWK, NUE, XLE, SPX, XLU