In a post to investors on Friday of last week, I made note of the GDP data and quipped that the acronym could questionably stand for "
G
reat
D
epression
P
ossible"???  I don't think so, but the GDP numbers were awful, to say the least! 
(Source: CalculatedRiskBlog.com)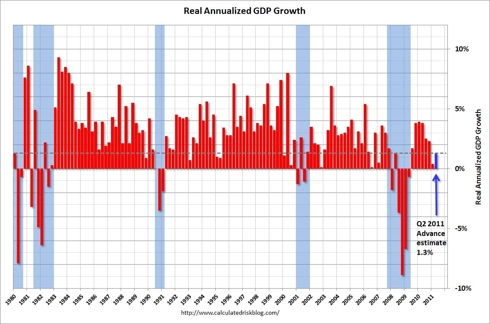 The only bright spot (and it's a 'spot', not a blotch) is that some areas of investment were actually up vs Q1.  But Consumption was lower. And the overall downward revision to Q1 to  just 0.4% growth shows just how slow the momentum was coming into 2011,and how much risk there is now that because of all of the uncertainty flying around, we could grind to a halt very quickly as we head into Q3! 
This raises questions in my mind as to whether we'll even get a relief rally of any import once a deal is reached in DC (and let's not mention what happens if they don't get a deal done'….)

Overall, the change in the global growth story is happening more quickly and it's palpable. After a long period in which market selloffs appeared to be opportunities to put cash to work, the strategy now has made a decided shift towards much greater defensiveness.  These next few days are going to be key as many investors might be of similar mind and in turn be looking for a chance to lighten up on upticks or possibly even 'cut and run'!
That said....looking for a silver lining?
Consider this:  Is something cooking in the restaurant industry?
The Restaurant Performance Index is a metric for the overall health of and outlook for the US restaurant industry.  The latest data shows the index jumping back above the 100 mark to 100.6, rising 0.8 from May's reading.
(Source: CalculatedRiskBlog.com)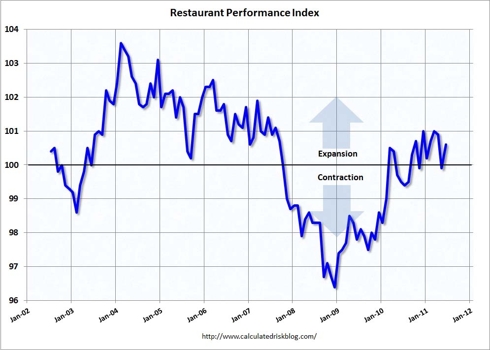 Not the most market-moving piece of data, I know, but fun to take note of! 

And if you saw the recent Robert Wood Johnson report on obesity (my previous blog post), I suppose this move in the restaurant index should be no surprise!   

Nonetheless, a seemingly bright spot (emphasis on 'spot') among otherwise recent un-encouraging data. (One little factoid to consider while we await word from DC on a budget/debt ceiling deal.  BTW, early Sunday morning reports starting to sound more optimistic that a deal is in sight!).
Stay tuned….
Disclaimer:
Please read and consider important information related to all communication made by Soos Global on SeekingAlpha.com by clicking
here
. This article is solely meant to be thought provoking and is not in any way meant to be personal investment advice