Chanos Put CAT In The Litter Box....did It Need His Help??
Jul. 21, 2013 11:26 AM ET
CAT
Please Note: Blog posts are not selected, edited or screened by Seeking Alpha editors.
Medium-Term Horizon, Long Only, Value, Growth
Seeking Alpha Analyst Since 2010
MUST READ:
1/24/2018: Soos Global Capital is no longer managing money! The founder and CIO, Ed Leventhal, is now a private investor, and any commentary or publications of his are personal views and not those of his former role as a manager of a registered investment advisor company. All posts on this blog are strictly for nostalgic and entertainment purposes, not advice.
Former disclosure:
IMPORTANT DISCLOSURE INFORMATION in the 'Company' section below applies to ALL correspondence made by Soos Global on SeekingAlpha.com. Soos Global Capital Advisors, LLC was founded by our Principal, Edward J. Leventhal, after a 23-year career at Salomon Brothers, which became Citigroup through mergers. Since 2002, Ed was among Citigroup's Senior Management (top 1% of the firm). After graduating from The Wharton School of Business in 1982, Ed started his career in Corporate Banking at Bank of America, where, for four years, he was an associate in the Fortune 500 group advising international companies such as Macy's, American Brands, RJReynolds, Zayre Stores and JC Penney. In 1986, in addition to completing his MBA at New York University, Ed moved to Salomon Brothers, where he worked for the next 23 years, through its mergers with Travelers and then Citigroup. During that time, he was in institutional sales and trading advising many of the largest hedge funds, banks, mutual funds, central banks and other government institutions on investment opportunities in various asset classes all over the world. His career advanced from US Treasury sales with specialization in derivatives, to heading the Global Government Bond team in the US, followed by managing Salomon's West Coast Fixed Income business (based in San Francisco), after which he returned to NY to become Global Product Manager of Emerging Markets, and finally, leading Global Relationship Management for Citigroup's premier institutional clients across Equities and Fixed Income around the globe. Soos Global Capital Advisors, LLC provided Ed's global markets and institutional level experience to a select group of high-net-worth private investors who were looking for that level of sophistication in the way their money was managed and in designing investment portfolios suitable to their investment goals, risk tolerances, and liquidity preferences. Capitalizing on years of experience in global financial markets and on three full passports of international travel, Ed's assessment of global opportunities provided Soos Global with its key competitive investment edge.
Soos Global no longer manages money and has been closed.
I have a bone to pick with market participants!
Let's begin with a disclaimer. I currently own Caterpillar (CAT), representing roughly 1.5% of each of our two strategies. We consider that a relatively lite position. CAT has been a familiar name in our investment thesis for the past three years, in varying degrees of exposure, as the emerging global infrastructure build-out argued for CAT to be a primary beneficiary of demand for equipment of all types.
Their acquisition of Bucyrus added to the cat's meow, at least it was supposed to, as the company's product offering expanded meaningfully into the mining equipment space. This was meant to capture the global supply/demand imbalance where miners could hardly get metals and raw materials out of the ground fast enough to meet growing needs especially of emerging market countries.
As we've been plowing our way through 2013 and witnessing sluggish growth in the US, ongoing recessions in Europe, and most notably, a slowdown in China (not to mention in other EM countries, several of whom have had to deploy counter-cyclical policy responses such as tightening interest rates to defend weakening currencies and to fight inflation), the cat has been seemingly de-clawed, as the market has taken the stock price down from early-February levels in the high 90s down to 80-ish before rebounding to the high 80s of late.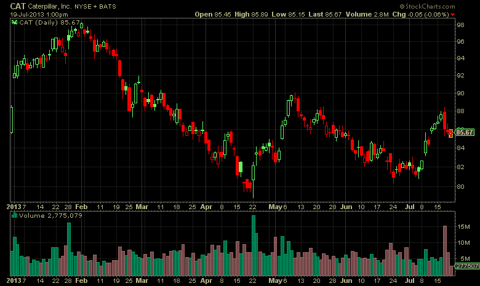 Now to the bone to pick....
This past Wednesday, at a conference in NYC sponsored by CNBC and Institutional Investor called Delivering Alpha, a line-up of celebrity investors were present to opine on markets, policy and various investments. Jim Chanos, of shorting-Enron fame among other notable achievements, was rightfully among the speakers. He commented that he was betting against CAT, upon which, the stock immediately tanked!
My comments have nothing to do with Chanos....he's earned his celebrity status over many years of impressive performance and insights into complex matters.
My issue is with markets...did the market really need to hear that Chanos is short CAT in order to sell the stock off close to 3% as the words left his lips? Did he impart some new information, formerly unknown to market participants, that created a deserved revaluation of the company, especially to that degree? (There are some who'd argue that, after all, into Chanos' short, had to be someone, perhaps of lesser fame, or not, going long)!
If the market wanted to put CAT into the litter box, it didn't need Chanos' short position to get it there. Plenty of solid fundamental issues face the company that have caused the revaluation from last years highs...in addition to those noted above, you could add management's misstep in acquiring ERA Mining Machinery and its subsidiary Siwei last year...a Chinese company that CAT acquired in June 2012 for $653mm and by Jan 2013 had to write off almost all of that amount ($580mm) due to subsequent discovery of "deliberate, multi-year, coordinated accounting misconduct". Or you could note the expensive acquisition of Bucyrus which has presented integration and synergy challenges coincident with the global mining sector suffering under the cloud of slowing growth and over-supply of machinery in places like China and other EM countries. Or you could note the rapid technology transfer (aka: pilfering) that has allowed CAT's competitors in EM countries to become more formidable.
In any event, the reasons are ample to be cautious on the stock, and depending on one's view of the global growth outlook in coming quarters relative to the pounding that the stock has taken, one may decide that current valuations properly price upside opportunity...or not. But to tag the stock 3% on a celebrity short-position, begs the question as to whether such emotional behavioral repricing might just be the bigger opportunity after all! Just a thought.........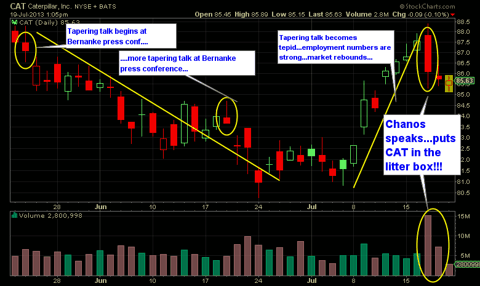 Please continue to visit Soos Global Market Musings for updates.
(Sign up to "Follow by Email"! And share with others!)
(Please note: This article is solely meant to be thought provoking and is not in any way meant to be personal investment advice. Each investor is obligated to opine and decide for themselves as to the appropriateness of anything said in this article to their unique financial profile, risk tolerances and portfolio goals).
Disclaimer: Please read and consider important information related to all communication made by Soos Global on this site by clicking here.
Additional Disclaimer: currently long many stocks/ETFs including Caterpillar (CAT). Positions may change at any time without notice.
Disclosure: I am long CAT.
Seeking Alpha's Disclosure: Past performance is no guarantee of future results. No recommendation or advice is being given as to whether any investment is suitable for a particular investor. Any views or opinions expressed above may not reflect those of Seeking Alpha as a whole. Seeking Alpha is not a licensed securities dealer, broker or US investment adviser or investment bank. Our analysts are third party authors that include both professional investors and individual investors who may not be licensed or certified by any institute or regulatory body.