(Below is an email that I just sent to investors as a follow up to one sent a couple of weeks ago re WAG. I post this solely as a matter of possible interest and not in any way as personal investment advice. Please see 'Disclaimer' notice below.)
Just a follow-up to the email below that I wrote a couple of weeks ago re Walgreens.
WAG followed the charts remarkably well….for now, that is. (see the chart below in this email).
Yesterday and today, in particular, were very strong days, and both closed above the 200-day MA (moving average), which from a technical perspective is usually viewed as a good thing. I own some at near current levels from a long time ago, and today, I played the volatile intraday range in my day-trading account by buying some more. If this level holds, I may add it for the investment portfolios. The recent surge came on the heels of a UBS report that said they expect the WAG/ESRX feud to end peacefully and soon! That sent the stock up. As I noted in the email below, I do think that the market had gotten so down on WAG, that there seemed to be a 'cheap option' built into the stock price for any remote possibility of a 'kiss and make-up' w/ESRX. Today and yesterday's stock price action gives us a better taste of that 'optionality'. Btw, for some idea of potential on this, see the chart in the email below that shows where WAG was back in early summer of 2011 before the divorce w/ESRX took place. Also note, more soberly, that since then, there have been a few short-lived spikes to the upside on rumors/hopes of a peace treaty. That's one reason why we need to assess whether this spike will hold!
Will keep you posted.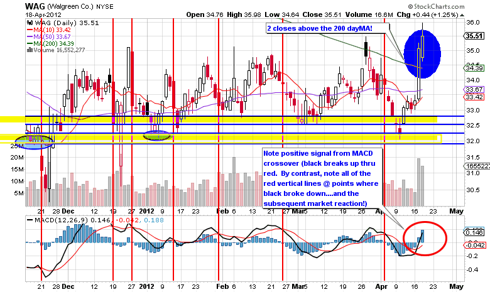 >>>>>>>>>>>>>>>>>>>>>>>>>>>>>>>>>>>>>>>
Sent: Thursday, April 05, 2012 3:37 PM
Subject: Walgreen (WAG)....on the radar....
Check out the Barron's article in the link above re Walgreen. (and my question that I submitted in the article's Comments section).
I was a huge fan of the company for some time, and then last year, they had a nasty fight w/Express Scripts (NASDAQ:ESRX) over the PBM contract (pharmacy benefits manager). ESRX tried to use their heavy weight status in the business (especially in light of their then pending, and now completed, merger with Medco) to muscle WAG into accepting lower payments for pharmacy prescriptions. WAG balked, and as a result, their relationship ended last summer in divorce…a VERY costly move by WAG. This sent the stock lower from the mid 40s to the mid/low 30s where it's been hovering for a while.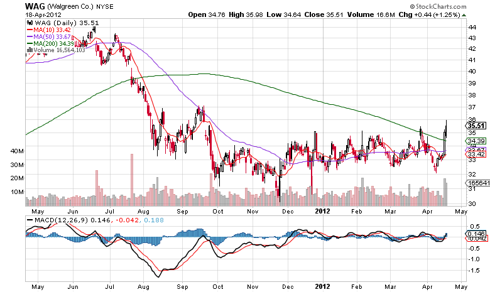 What is of interest is that WAG has an existing contract with Medco that even post merger w/ESRX, will likely be honored by both sides. That is good news for WAG. Furthermore, it is still possible that the divorce finds its way towards a reconciliation and a remarriage….why….because completely axing WAG even after the Medco contract expires opens ESRX up to the risk that other pharmacies will negotiate tough fees, no different than WAG has done. Also, WAG, along w/their purchase last year of Duane Reade, has a very large geographic footprint that is quite desirable for the PBM business.
The fact is that the loss of the ESRX biz has cost WAG not just in pharmacy sales, but in 'front store' sales….all the stuff that we probably don't need but end up buying nonetheless as we pass en route towards the pharmacy area in the back of the store. And the hope for a rapprochement is for sure not the base case currently, but also, not out of the question. I believe that the stock price likely reflects all of this, and as a result, there could be some cheap 'option' value in the stock now, meaning that there could be far greater upside in the WAG if they kiss and makeup w/ESRX than there is downside if they don't.
Again, I'm not dismissing the fundamental earnings impact of the ESRX divorce….it's meaningful and could continue to plague EPS for some time. But, especially when I see the WAG stores (currently in Florida) I'm impressed with their merchandising and store layout….and despite the fact that they seem to be on almost every corner, they're usually packed!
In any event, all of this is in my humble opinion, but nonetheless, one that I'm using to target an area to buy. Furthermore, the charts are starting to look compelling too.
The chart below shows some initial thoughts on that. The yellow shaded area appears to be the next support that could be tested, roughly @ 32.5. I'll reevaluate at that point. One reason it's not definite is that if you look at the MACD indicator (a key momentum indicator) in the lower part of the charts, you'll notice in the red circle that I drew, that the 'black line' (which represents the difference between the 12 day and 26 day momentum) is turning down (bearish) and crossing the 9-day (red line) moving-average of the 12/26day indicator itself. I drew vertical red lines each time that's happened in the past six months and as you see, the stock turned south each time that happened. So I'm waiting patiently, and I do expect some more downside, both owing to the market overall and specifically to WAGs woes w/ESRX…..but I do expect to see WAG improve at some point, both from a technical perspective and from fundamental earnings potential. It's on my radar…..
Will keep you posted….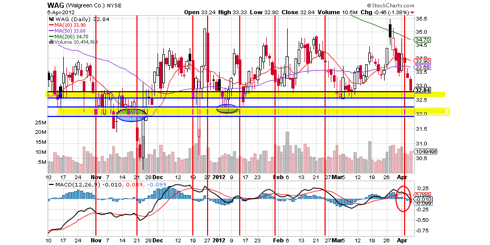 Disclaimer: Please read and consider important information related to all communication made by Soos Global on Seeking Alpha by clicking here. This article is solely meant to be thought provoking and is not in any way meant to be personal investment advice. Readers/investors are obligated and responsible to opine and decide for themselves on appropriate investment decisions based on their own risk tolerance and financial profile.
Positions may change at any time without notice.
Disclosure: I am long WAG.