www.marketwatch.com/story/dupont-ceo-sees-asian-demand-recovering-2012-04-19
In the MarketWatch story in the link above, DD's ceo speaks quite constructively re upcoming quarters and a rebound in Asia demand across many business segments. In general, I don't like industrials near term, but DD seems to be in enough segments that are central to emerging growth that it may make sense to hang on for the ride, despite my current efforts to continue to lighten up on industrials into uptrades and to consolidate overall positions.
DD has had some run since the '09 lows. It's well above pre-crisis levels. See long-term chart directly below.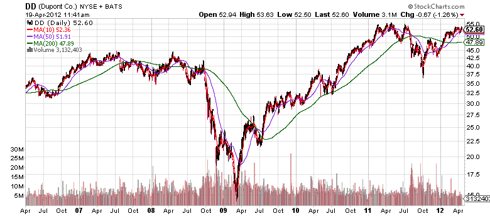 The more recent chart (below) might be a bit iffy. While the price is currently holding over it's moving-averages, that would be the support-test on a down trade. Also, a 'double top' (real techy-talk) might be forming…not a good thing near term.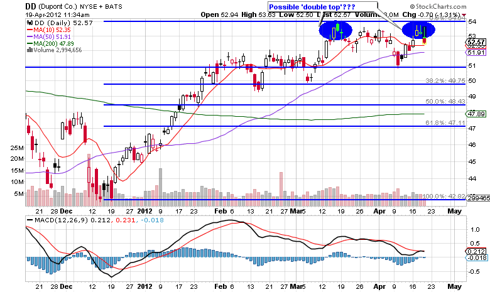 Tough one (which I'm facing with several of our holdings)…I suspect the overall market might pull back due to global macro geopolitical concerns, but in this case, the company might withstand the overall selloff better than most due to its diversified business and good dividend. This may be a keeper. And if not, then it's a strong candidate for a 're-buy' on pullbacks! The various levels of support are the horizontal blue lines on the chart. So the ultimate question will be whether it makes sense to free up cash for re-entry below and/or for some other stock that might have more nearterm upside, or to ride it out as a longer term 'keeper'.
Will keep you posted.
Disclaimer: Please read and consider important information related to all communication made by Soos Global on Seeking Alpha by clicking here. This article is solely meant to be thought provoking and is not in any way meant to be personal investment advice. Positions may change at any time without notice.
Disclosure: I am long DD.