Snippets from "May's Mayhem" - Monthly Investor Letter:
Normally I'd say that 'a picture tells a thousand words'…but I think the picture below of the performance of the S&P and its constituent sectors for the month of May tells far more than a thousand words!
Or maybe it's the opposite…maybe it just tells one word: UGLY!
(commentary continues below the chart)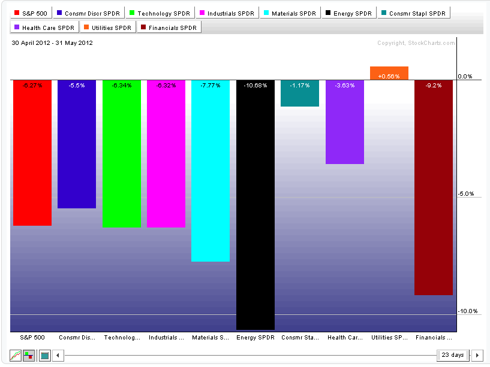 May was a terrible month for equity markets around the globe. On a running list of events that I keep in order to track 'positive' and 'negative' news in the marketplace, the negatives in May far outweighed the positives, with a heavy weighting on the events in Europe…but also with a keen focus on China's slowing economy and further evidence that job growth in the US is, at best, stuck in neutral.
With the positive forces of good Q1 corporate earnings announcements having been completed early in the month, the markets turned their attention to the unraveling of what many had thought was some calm on the European financial front.
Elections in Greece and France surfaced considerable populist opposition to austerity as the means to cure Europe's financial woes, instead voting for a relaxation in tough fiscal demands and instead, more growth oriented policies.
The rise of Hollande from the Socialist Party in France raised concern that the Franco-German cooperation in dealing with the more troubled southern European countries would cease, and in turn, more pressure would be put on Germany, by France and others, to accept more regional fiscal pacts and funding schemes in order to bail out financial troubled EU members.
Germany, where Merkel's own conservative party has suffered in recent local elections, nonetheless continues to appear to remain steadfast in its opposition to relaxing austerity demands on the likes of Greece and Spain, so tensions have grown!
And in Greece, elections that showed more support for extreme parties on both ends of the spectrum, prevented the more close-to-center parties from forming a government, thereby requiring another election in mid-June. Weaved into the dialogue coming from the Greek vote were calls for abrogating the deal that had been reached in the past year in which Greece was allowed to default on part of its debts in exchange for acceptance of strict fiscal goals.
So this wave of populism calling for a turn away from fiscal austerity scared markets into believing that we could see another episode of sovereign defaults, which could hurt European banks, and then spread virally around the world.
Economic data didn't help either. More and more evidence came out through the month that European economic growth has faltered and many countries are already in recession! Couple that with slowing growth in China, along with weaker data in the US, and markets started to quickly price in the possibility of a global slowdown, if not an all out recession.
As I've said recently in some 1-1 conversations, when a battle field is being carpet-bombed, it is very tough to avoid injury from flying shrapnel. The best one can do is to be well protected with a strong helmet and a deep foxhole!
Based on what I've written in recent months, you might recall that I've been concerned for some time about all of the issues that attacked markets this past month, and in that light, as the market was rallying throughout the first quarter, I was continuing to build a more defensive position. Our 'helmets and foxholes' come in the form of holding more cash, shifting out of cyclical sectors like materials, industrials, and energy, and in turn, buying more defensive sectors such as utilities, healthcare, consumer staples, reits and US Treasuries. I believe that this defensive positioning helped us avoid the worst of the May selloff, but again, shrapnel takes its toll!
Where do we go from here? The opening bell of June came with a stingingly lower than expected Non-Farm Payroll number, sending the stock market tumbling, currently down over 200 points. Will this raise hopes for QE3? China stimulus program? European cooperation on Eurobonds and federal-fiscal union?
Stay tuned....
(Please note: This article is solely meant to be thought provoking and is not in any way meant to be personal investment advice. Each investor is obligated to opine and decide for themselves as to the appropriateness of anything said in this article to their unique financial profile, risk tolerances and portfolio goals).
Disclaimer: Please read and consider important information related to all communication made by Soos Global on this site by clicking here.
Disclosure: I am long XLU, XLE.
Additional disclosure: Positions may change at any time without notice.