August has been a rough month for stocks....and the month isn't over yet!  Squirming in your seat??  How about the historic performance of stocks in the month of September???  (you guessed it....usually the worst month of the year).

That said, after wiping the sweat off my brow, and yes, taking a whiff of some smelling salts, there are reasons for optimism, as I've pointed out in previous notes.  And at the right time, there are stocks that fit the overall  global infrastructure build-out and resource-demand themes that are seemingly good values...or will be soon.

One of those is 3M (NYSE:MMM).  As Morningstar describes them summarily:
Based in St. Paul, Minn., 3M manufactures a diversified array of industrial products. Known especially for popular consumer products such as Scotch Tape and Post-It Notes, the company's portfolio also offers liquid crystal display films, health-care technology, heavy-duty adhesives, and nearly 40 other technology platforms. 3M is an S&P 500 component and a part of the Dow Jones Industrial Average.
 
I believe that 3M is widely regarded as having world-class market leading products, a strong balance sheet and overall financial condition, and a proven, quality management team.  The prospects of 3M products being sold into emerging countries around the world, most notably China, augurs well for continued growth in earnings.  With a recent p/e of just less than 15x, and a dividend payout of over 2.6%, I believe this is a good defensive, quality, dividend-paying addition to the portfolio......and the focus on overseas markets is an indirect way of taking EM exposure!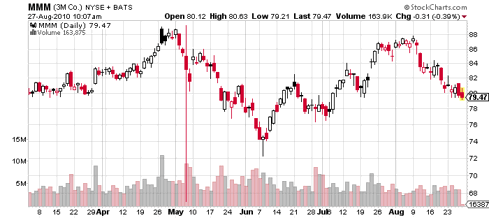 Another name is
NALCO (NYSE:NLC)
.  Again, quoting Morningstar, whose summaries of companies on their website are quite succinct and informative:
Water systems are a crucial component in industries from power generation to steel production to paper manufacturing. Proper maintenance of these systems is important, since the accumulation of impurities leads to operational inefficiencies, asset degradation, and unnecessary costs. This is where Nalco comes in, offering monitoring applications and process chemistry aimed at preventing the corrosion, contamination, and deposit buildup that can cost customers money. Thanks to an impressive research and development operation leveraged against a small army of engineers, Nalco is the leader, boasting an 18% share of the global water treatment market.


Nalco was recently featured in a Fortune magazine article where they interviewed the relatively new CEO who was quite impressive.  With all of the talk of droughts around the world (witness chronic conditions in Australia, recent conditions in Russia and just last night's news reported in China Daily that the growing shortage of farmland and water resources in China could put its grain output targets over the next decade out of reach) and with the increasing needs of Emerging Market countries for water purification and water desalinization, this company is likely to be well situated to benefit and grow in this space as it operates all over the world.   The August market doldrums have brought the stock back to the $22.5 area, which I believe is in the strike zone based on current valuation and growth prospects.  (And for Warren Buffett fans, note that he owns a significant piece of the company).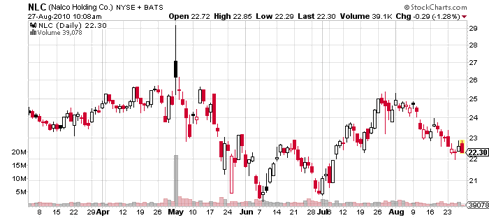 As I've mentioned in earlier notes, I'm not rushing out to load up the truck on anything at the moment.  But when quality names suffer at the hands of the overall market malaise, I want to make note of it, and start to target more specific entry levels within the strike zone.

More later.....
Ed

As always, please read IMPORTANT DISCLOSURE INFORMATION by hitting the following link to the "Soos Global Capital's Company" section of the Profile page  seekingalpha.com/user/686137/profile .


Disclosure:
LONG: MMM, NLC