Interesting that on the company's warning that sales in developed nations is slowing, the stock is actually up on the day.  Specialists who follow every aspect of the 'dna' that makes up a computer have been broadcasting for some time that inventories at various points along the supply and distribution chain have been growing, so hearing from INTC that sales will slow is not much of a surprise to the market who had already taken the stock down into the high teens.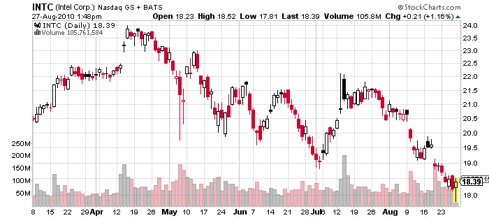 I still like the company for the following reasons:
great products, industry leader
strong earnings, margins and cash
proven management
diversification into new business lines (McAfee acquisition recently announced).
unconventionally high dividend for a tech co.
slower sales of pc's now and in coming months likely means growing pent up demand
good valuation....p/e based on ttm (trailing twelve months) 10.9.  Many analysts have the p/e based on forward earnings at 8.7ish.
Am I adding at these levels?
Not so fast.
Having set the tone for broadcasting slower outlooks, INTC may have opened the door for other companies to pile on in coming days and announce similar views.  But INTC is, in my opinion, definitely in striking range.
More later....
Ed
As always, please read
IMPORTANT DISCLOSURE INFORMATION 
by hitting the following link to the "Soos Global Capital's Company" section of the Profile page  
seekingalpha.com/user/686137/profile
 .
Disclosure:
LONG: INTC