As has been pointed out in countless commentaries across the market media, September 2010 has confounded the historical norms of being among the worst months of the year. If the month ended today, the results would actually place it high on the list of monthly positive returns for equity investors (not to mention gold, commodities, and the Euro vs USD).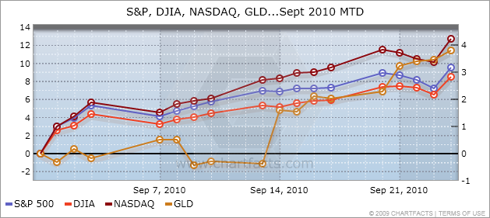 (Source: ChartFacts.com)
But as the expressions goes: "It ain't over 'til it's over".
Question: Is it conceivable, that after the equity market euphoria that closed out last week on some evidence of strength in US capital goods orders and on a strong IFO business survey in Germany, that in the space of the next couple of trading sessions, markets could undo the MTD performance numbers and actually turn September back into the 'red' where market price historians say it belongs? 
Answer: It might, Rabbit….it might…. (See your local Bugs Bunny fan to explain the allusion).
In "
Setting Up For the Opening Bell: September 27-October 1, 2010
" I went into some detail regarding the market moving events this week that would likely capture market attention and could possibly rattle nerves, both of bulls and bears. With today's calendar quite light in terms of economic releases, the opening bell was initially meant to be greeted with a positive tone. At least that's the way it was in Asia, as markets followed through on Friday's US strong showing and Japanese exporters responded well to a slightly lower Yen. In addition to that, the "M&A-fest" continued in pace with sizable deals being announced including:
Unilever's bid for Alberto Culver ($3.7Bn)

        

Walmart's bid for South Africa's Massmart ($4.2Bn) , and
Southwest's bid for AirTran ($1.4Bn)
All of this, taken together, should have propelled markets higher in early NY hours……but……then came the PIIGS!! 
The so-called "peripheral countries of Europe", as pointed out last week in "
Spain: Mission Accomplished?
", need to be kept flashing bright on investor radar screens. 
Today's news focused on Ireland, where the government's efforts to bail out Anglo Irish Bank (which it nationalized in 2009 as a way to save it from collapse) is raising concern in markets, not only over the size (€22Bn-€35Bn??), which the Irish Government will reveal later this week, but also over the possibility that Ireland will have to turn to the European Union for funds to help with the bailout. (Moody's downgraded Anglo Irish Bank's senior unguaranteed debt this morning to Baa3 from A3). 
In addition, peripheral countries weren't the only cause for concern. An article in a German newspaper also reported that the European Commission was concerned about Germany's regional banks.  The net effect of all of this news was bursting of the bubble of optimism that was being inflated, perhaps out of proportion, since last Friday.
With only a few trading days left in the month, it would seem possible, if not likely, that markets could stumble….and stumble hard. This is in no way meant to be a prediction of that outcome….but rather a warning about the possibility that exists that markets, in their current and recent state of play, could react, or over-react, to any single piece of news in a way that would take prices more extremely in one direction than might normally happen. 
From the perch of a global portfolio manager, markets have been better described as "choppy" rather than "trending".  Given that, instead of chasing markets during periods of strong uptrades, I've largely been a better buyer on dips especially of stocks and etf's that reflect my underlying premise that the world is witnessing a global infrastructure buildup and demand appears strong for materials, resources, machinery, and the like.  

And while I remain cautiously bullish (code for increasing equity exposure but holding a larger than usual cash position), it would seem wise to take note of the strong performance that markets have turned in month-to-date, the general thinness of markets and lower volumes, the risks of an "event" in Europe related to banks, and the upcoming earnings parade in which companies will report Q3 earnings along with guidance for coming months that could be riddled with signs of caution.   And that's the operative word, in my opinion….CAUTION!
Each investor will have to weigh all of the facts and decide on his/her own whether markets present an opportunity or a threat, especially relative to each investor's unique financial profile and risk tolerance. This article is solely meant to raise some issues that investors should consider and weigh against the daily market price action in order to discriminate between "over-reactions" vs "game-changers".
For a week that is devoid of so-called meaningful, earth-shaking economic data releases, it sure does feel like we have much to consider that could cause some tremors.
Stay tuned for updates through the week.
Ed Leventhal
Soos Global Capital Advisors, LLC
This article is meant to contain thought provoking views and is NOT investment advice. As always, please read
IMPORTANT DISCLOSURE INFORMATION 
by hitting the following link to the "Soos Global Capital's Company" section of the Profile page  
seekingalpha.com/user/686137/profile
 .
Disclosure:
LONG: stocks and etf's in SPX, EEM, QQQQ, Europe, Asia-ex-Japan, Latin America