The global growth story of post US-2009-recession was marked by exuberance among investors for Copper (known then as "Dr. Copper" for its seemingly predictive role relative to global economies and, in turn, stock markets) and for Emerging Market equities (shown below as VWO…an EM ETF). That appears to have been the story in the period in the first shaded area below, from mid 2010 through summer of 2011.
But so far in 2012, that's not the case. US equities continue to steam ahead relative to Copper and EM-equity prices despite our sluggish economy, potential fiscal cliff and uncertain election outcome.
Something to be mindful of as one of the vulnerabilities of US equities…..either a turn down in US economic activity, or a ramp up in growth in EM countries could trigger an asset allocation and sector move in favor of EM over US equity markets. Part of that, however, could be mitigated by the degree to which US companies benefit directly from growth in EM countries, but the respective performance YTD does leave meaningful room for a relative re-pricing.
Thought-provoking? Hope so.
Predictive? Hmmmm………stay tuned…..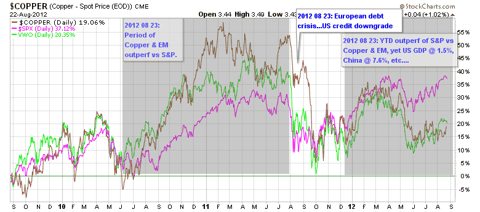 (Please note: This article is solely meant to be thought provoking and is not in any way meant to be personal investment advice. Each investor is obligated to opine and decide for themselves as to the appropriateness of anything said in this article to their unique financial profile, risk tolerances and portfolio goals).
Disclaimer: Please read and consider important information related to all communication made by Soos Global on this site by clicking here.
Disclosure: I am long VWO.
Additional disclosure: Also long many stocks within SPX. Positions may change at any time without notice.