Re commodity pxes. The trend was notable (down) until recently when the combination of the US drought, MidEast tensions, hopes for global stimulus and labor unrest in Africa mines caused spikes in lots of commodities…corn, soybean, oil, platinum. (see first chart below)
Does that feed through to consumer wallets causing them even less disposable income to spend?
Or is the expectation that corporations will eat the hikes and as a result, sacrifice margins in lieu of passing through the higher input costs?
Either way, doesn't that seem to bode poorly for earnings growth, which has already been slowing markedly for some time??? (See second chart below)
Yet, our markets maintain levels near historic highs, while EM only struggles to get off of the tarmac (as pointed out in yesterday's missive).
Food (pun intended) for thought!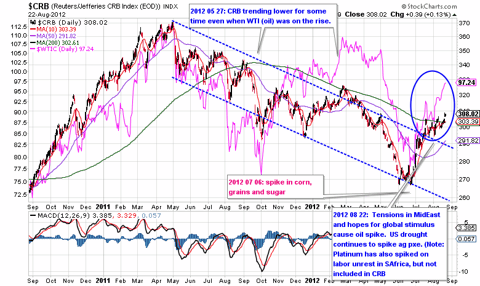 The chart below of earnings includes estimates through 2013…..One might think that quite a few 'headwinds' need to die down for the optimism to prevail!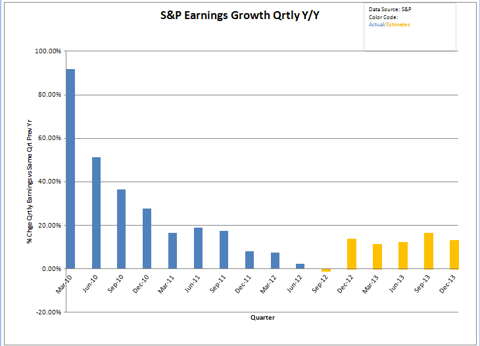 (Please note: This article is solely meant to be thought provoking and is not in any way meant to be personal investment advice. Each investor is obligated to opine and decide for themselves as to the appropriateness of anything said in this article to their unique financial profile, risk tolerances and portfolio goals).
Disclaimer: Please read and consider important information related to all communication made by Soos Global on this site by clicking here.
Disclosure: I have no positions in any stocks mentioned, and no plans to initiate any positions within the next 72 hours.
Additional disclosure: Currently own many stocks within SPX. No direct exposure in any of the commodities mentioned, though long many stocks in those sectors. Positions may change at any time without notice.