Lululemon Is Overvalued And You Should Short It.
By all conventional metrics that we employ, Lululemon (NASDAQ:LULU) appears overvalued:
Lululemon's meteoric rise as an iconic branded clothing retailer has obscured the apparent disconnect between the admittedly strong fundamentals and the downright unreasonable valuation. Lululemon's existing valuation only appears reasonable if one values it on the basis of 2016 EBITDA (using the already aggressive growth assumptions we've made in our model).
We will outline a few of the reasons we believe that this name possesses material downside risks as the existing store base matures and same-store sales moderate.
There are two buckets of risks which we believe may trigger a sell-off in the stock price:
(1) Fundamental Risks
a. SSStagnation, Saturation & Imminent Maturation of the Store Base
b. Direct-To-Consumer will Eventually Cannibalize Retail Store-Based Revenue
c. Concept is Unproven in Non-Western Geographies
d. Margin Erosion
(2) Market Sentiment/Capital Markets-related Risks
a. Revenue or Margin Miss
b. Short Interests
We will present our model here, which shows our assumptions, growth drivers, and estimates: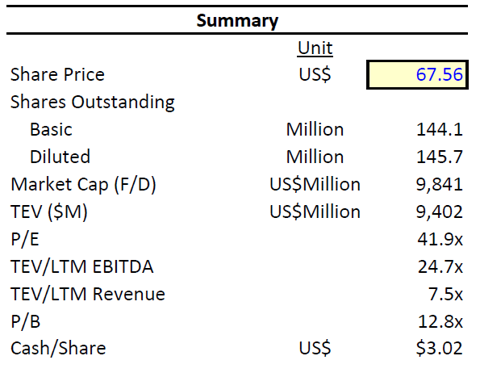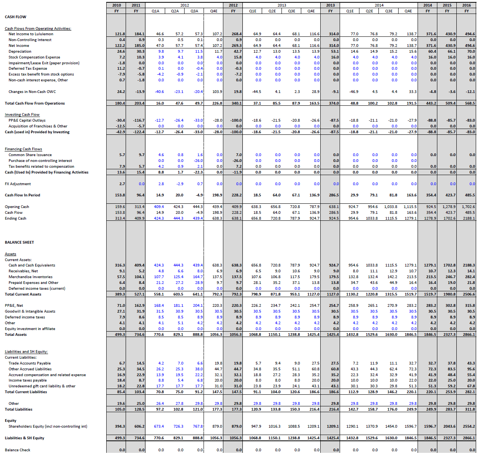 FUNDAMENTAL RISKS
(1) a. SSStagnation, Saturation & Imminent Maturation of the Store Base:
Same-Store-Sales (called "comparable store sales" in the filings), refers to Lululemon stores which have been in operation for at least 12 months. These are considered 'mature' stores. Lululemon's Same-Store Sales growth has historically been exceedingly high - with revenue growth percentages in the double digits on a year-over-year basis. This is unsustainable.
With Lululemon's sales-per-square-foot already at levels that are far in excess of other retailers, Same-Store-Sales cannot grow at double-digit levels indefinitely. We believe that Same-Store-Sales growth will moderate, and will decline to mid-to-high single digits in 2013, and to mid-single digits in subsequent years. Management has already recently provided guidance suggesting that future SSS growth will be in the "high single digits" for the last quarter of 2012.
Despite the company's global expansion plans, unless there is a marked escalation in the pace of new store growth, new stores as a percentage of total stores will decline, which creates a greater reliance on growth in same store sales to fuel corporate growth. Thus, moderating SSS growth will have a more profound influence as the store base becomes comprised of a larger percentage of mature stores.
Existing regions, particularly Canada, where Lululemon is fully penetrated may have reached a saturation point, and new stores are unlikely to exhibit the same sales-per-square-foot.
(1) b. Direct-To-Consumer will Eventually Cannibalize Retail Store-Based Revenue
We believe that -supply shortages aside- retailers such as Lululemon tend to be very demand-driven. While the brand is itself a differentiator, the reality is that there are a number of viable substitutes for Lululemon's products.
As such, we believe that the Direct-To-Consumer (online) sales channel does not generate significant new demand for Lululemon products, except where prospective purchasers reside far from a physical Lululemon retail store. For these consumers, it would be impractical to visit the bricks-and-mortar Lululemon store, and thus the Direct To Consumer channel offers them an attractive alternative and generates sales which would not otherwise have occurred.
However, particularly with increasing geographic penetration of Lululemon retail stores, the marginal value of the direct-to-consumer channel diminishes to the company. As Lululemon retail stores become ubiquitous, the Direct-To-Consumer channel will likely cannibalize retail store sales to a certain extent.
Essentially, we believe that the Direct-To-Consumer channel is primarily the refuge of Lululemon customers who live far from actual stores.
(1) c. Concept is Unproven in Non-Western Geographies
Brand concepts, even successful ones, can take a considerable amount of time to gain traction when introduced to new geographies. There is a material possibility that Lululemon will fail to gain traction in many of the geographies it seeks to enter as part of its global expansion, particularly in non-Western nations. At the very least, it could take longer than expected for the concept to gain popularity. Unless Lululemon franchises stores in these jurisdictions, these stores may fail to achieve the same level of sales-per-store as the Canadian, US and Australian Lululemon locations.
(1) d. Margin Erosion
Lululemon's gross margin of 55.5% is higher than all of the comparable companies except for H&M and Inditex (Zara), which are known to be low-cost branded retailers. We will note that the fact that H&M and Zara are fashion-oriented clothing retailers rather than athletics-oriented may distort the gross margin comparison.
We believe that the prospect of margin erosion presents material downside risk to Lululemon's share price. Lululemon is sensitive to margin erosion arising from any of the following risk factors:
· Increasing competition from other retailers offering competing product lines. Other retailers such as Nike are interested in the market niche Lululemon has carved for itself, and are anxious to launch competing lines.
· Different sales mix: if lower margin items comprise a larger percentage of the company's sales, gross margin will decline.
· New product lines offered by Lululemon: increased diversity of Lululemon inventory means more SKUs and this could lead to more inventory costs and lower margins. This is particularly the case regarding untested new products which may be less successful. The bikini products and male-focused products have not yet caught on to the same extent as female-focused products, and this could result in discounting and reduced gross margins.
· Supply chain Issues: given the supply hiccup Lululemon experienced last year, the company may 'hedge' their supply chain exposure by ensuring redundancies in their supply chains, but this will have costs associated with it. As well, if there were a supply chain interruption, the company may incur higher costs to have the product produced elsewhere from another supplier.
MARKET SENTIMENT RISKS
(2) a. Revenue or Margin Miss
Lululemon's valuation relies heavily on market sentiment and momentum. We believe same store sales growth is the critical driver of market sentiment, and when it moderates, the stock will decline. On January 14, when management reiterated guidance of "high single-digit" same store sales growth, the stock declined over 6%.
Lululemon has a history of outperforming management guidance, but reiterating guidance below expectations portends slower growth. Management would lose credibility if they were to repeat guidance and then surprise to the upside.
If there is a miss on revenue or on a margin which indicates future pressure on margins, this could serve as a catalyst upon which sentiment could turn against the stock. Of the two, slowing revenue growth is the larger concern, as growth stories are seen as scalable on the profit level as long as the top-line increases.
Lululemon is a growth story, and to quote a popular reference, the music doesn't need to stop to have a devastating effect on the price of the equity. If the music merely slows, the stock will lose the sheen of invincibility. We think the music is slowing now.
(2) b. Short Interest
Like most stocks with a lofty valuation, Lululemon has a massive short interest. More important than the quantum of the short interest itself is who it comprises. If a prominent shortseller such as Jim Chanos (Kynikos) or David Einhorn (Greenlight) takes a sizeable short position and goes on the record explaining why they think the stock is overvalued this could serve as a catalyst for a material price decline.
Company Management
We have no concerns about the quality or integrity of the management team; Christine Day and the rest of the Lululemon executive team have shown a remarkable capacity to execute on their growth plans. A few mishaps aside (including a recent product shortage), the execution has been impeccable. Moreover, these minor setbacks are understandable given the challenge of executing a global growth plan for a successful and well-honed concept. This however does not excuse the valuation.
Conclusion & Valuation
In conclusion, it should be noted that Wall Street analysts have a dubious record when it comes to volatile and rapidly-growth names such as Lululemon (and others such as Apple and many commodity producers). For these volatile names, rising or falling analyst price targets are often trailing indicators. Analysts are likely to slash their targets after the price of the stock has already fallen materially.
Although the comps are trading at 12.0x LTM EBITDA (see comps below), we assign a premium blended valuation to Lululemon comprising 13.0x 2012 EBITDA (3 of 4 quarters are already actual, and the year-end results should be announced shortly), and a 50% weighting to 2013 forecasted EBITDA.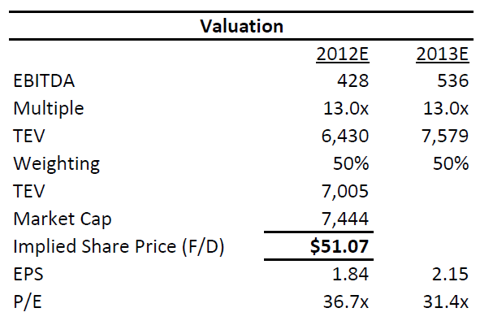 This gets us to our price target of $51.00 per share.
We believe a catalyst will be required to effect a decline, but investors should build a short position anywhere over $65.00 in the absence of (1) further double-digit SSS growth or (1) further indications of global traction of the Lululemon concept.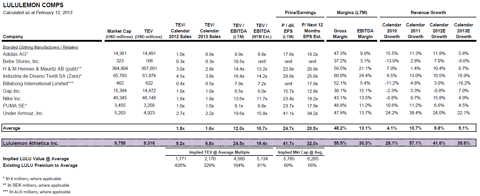 Disclosure: I have no positions in any stocks mentioned, but may initiate a short position in LULU over the next 72 hours.
Additional disclosure: I split the income statement and operating model/forecast into two separate images.