This week volatility increased along all major indexes with volumes. This is a consequence of earning season going on. Have a look at the Dow 30 chart. It began week with an heavy drop & volumes very high, but then recovered rising temporary above 11200. The first recovery day (wed.) was good in volume, but last two days of the week saw a drop in volume, signal of market weakening especially on Friday. Similar patterns apply to other major indexes.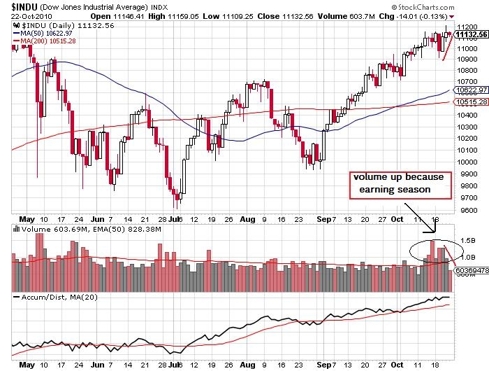 Last week I wrote that there were signal of weakness on majors and a correction could arise. I am not talking about a reversal of uptrend (because we are in an uptrend since September) but just a pause useful to add positions. Unfortunately correction was too short (last only 1 day) and not enough deeply, but it could still happen.
Market is in uptrend now and this must be clear.. No major divergence appear on Acc/dist indicator. Being conservative I prefer wait for a consolidation because all my old watch-list stocks are on 52weeks-high and gave signals many weeks ago.
The last was CMG, that I follow and always had missed waiting for a correction. It beat analyst consensus and reached a new high this week.
I was sick the whole week so I couldn't run any screening in the office and I have not new name to add in the watch list, so I checked European stocks that I know.
In Europe indexes rose well, therefore I decided to buy STMicroeletronics at 5.77 (I buy ½ position and think to add next week the other half preferably after the earnings). Have a look at the chart.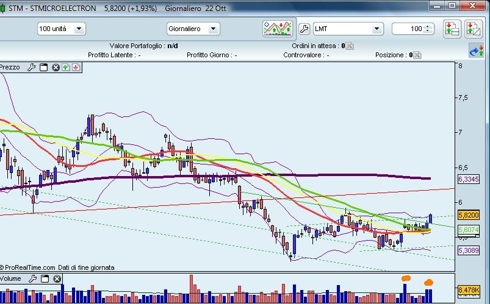 It bottomed since beginning September above 5€ level after an heavy drop since August. Last 2 weeks seemed interesting with high volumes over rising price, and low volume when consolidating. Stm benefited of positive earning season by other tech stock (Ericsson) and next week (27th) is going to deliver its own results. I'll go with stock in my portfolio into that days unless I have a bad signal tomorrow.
What's the target? I'd say the short one is around 6, but if you look further I'd like to see a test of area 6,30-6,50. That's where I'd like to sell. There a gap open at 6,25.
Disclosure:
Long STM