I had few spare time to write more in the last weeks because of personal situations.
Just a brief update. After the FOMC meeting, markets accelerated and broke highs. The markets seems healthy, even if in overbought conditions. Usually when overbought conditions last for long time, it's a signal of very good healthiness.
Unfortunately for a Non US investor, big part of gain is erased by dollar depreciation. That make me favor Eu stocks now because I can't hedge Dollar at the moment
Just a warning signal to keep in mind. We have DEMARK SELL SIGNAL 9-13 ON all major indexes on a weekly basis.The last time it happened was in end April/ beg.May as you can see in the chart. If you are long, I advise hold the long exposure, but buy some put at protection.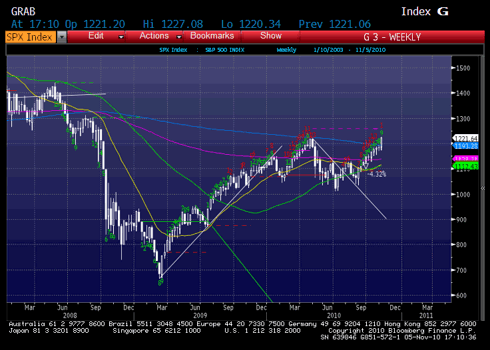 About my trades I sold STM at 6,20. Unfortunately it rose up to 6,45, but I am satisfied. I rose since 5,77 to 6,20 in just 3 days without currency losses for me J
Hope to write more next week end.
Disclosure:
Sold STM