Last week I wrote that market looked healthy, but there were a weekly sell signal from TD Demark Sequential that could signal a possible correction. Last time happened in April/early May and we entered in European crisis. This week the same happened with sell on stock markets and especially in European bond market. Dollar appreciated vs. Euro and this was a signal of risk aversion rising. Situation seems calmer than in the Spring, I hadn't seen panic so far. Let's see how this week evolve and if it was a reversal or we'll see some kind of "braking" in the drop. A consolidation of indexes would induce me to add position on some stocks in the later part of the week, on the other side if I see again stocks dropping, I'll continue to wait. Usually don't like to buy the "fallen knife", prefer the rebound, unless a stock reach a fundamental level. Don't mind if i pay a stock more.
About Us stocks, my watch list shows many stocks are overextended so I wait for area 50w moving average to see if some interesting pattern arise.
I bought this week a silver stock after Silver had a giant drop. I think it can reach 40$ in few months, maybe before December future expiration, so I tried to play the game buying SSRI.(also bought a microscopic ETF silver 2x leverage position)
I bought it the day of huge drop of silver. I admit that don't know much of this stock and see that actually is losing money in its Income Statement.I bought it because it seemed lagged among other silver group, moreover recently broke the highs. And cost of production is much lower than actual prices.
Hope to be right. I admit to have underestimated the potential of silver and the fact that major banks hold it underestimated for years.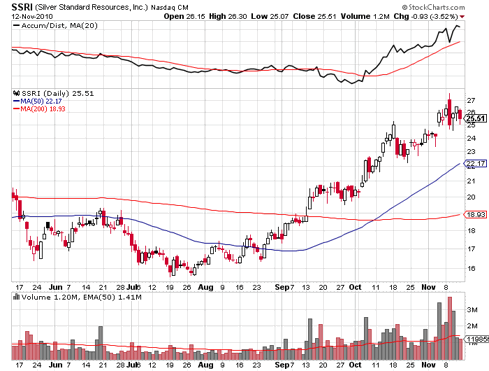 I have some stocks on the European list I monitor and one is AIXA GR (if you have Bloomberg). A company that makes 90 % of its business selling tech material to Asia, selling lights used in Led industry. Didn't buy so far because I am still waiting for a pattern I like.
Disclosure:
Long SSRI