Last week I wrote that I was waiting for a signal of strength this week, expected at the beginning of the week. Unfortunately we hadn't it. Major indexes were flat, with no general strength. Only Nasdaq 100 looked stronger than other indexes, but not enough to add positions. The good news is that some stock leaders are improving, therefore it's a "half-full" glass. By the way, at the moment I am not going to add new position until I don't see a  FTD. .
If you watch the S&P500 the hope comes from a sort of short term double bottom, confirmed above 1202. A rise above that level would drive the indexes around the recent tops. OBV and accum/dist indicators supports a buying pressure from institutional going on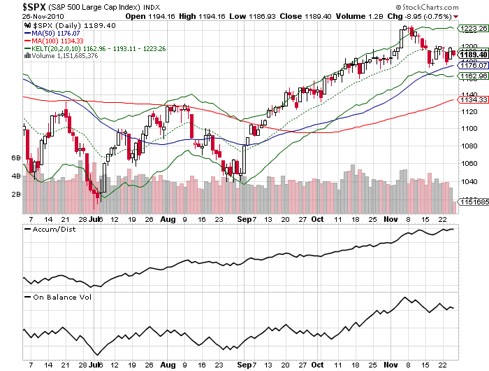 In Europe indexes are in a much worse shape. Except the German Dax, most other indexes look weak because of Ireland's crisis. European banks were crushed and this drove indexes down.
On my positions I am going to stop out this week Banca Generali and Snam if the drop continues. I was a bit too early into the markets. I thought Ireland crisis would have been solved sooner.
Russia Etf is going well , while silver is lateral.
Euro/Dollar is low, dropped below 1,33 and this is a signal of tensions arising. Today Europe will decide how to save Ireland and a statement will arrive tonight. I'm anxious to see market's reactions tomorrow. I still continue to sponsor a Xmas rally, but situation, now, seems weaker than last week. To happen this we'd need:
1) a FTD coming up in Europe and Usa
2) Euro/dollar above 1,37.