Market continue to be in correction model with last Friday rebound marking "day 1" attempt of a new bull leg.
I'll wait for the classic follow-through-day before opening new long positions. I don't care about 3-4 days of rebound, I want the bigger piece of cake.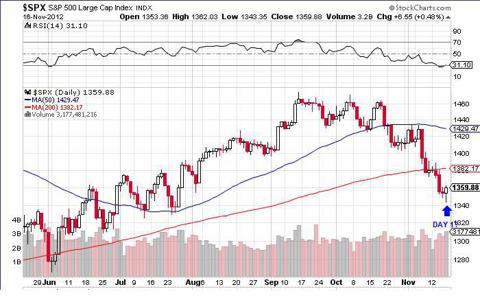 The underlying situation doesn't look strong at the moment, with many old leaders that have developed bad patterns and will need time to restore them (Apple is an example).
The bullish percent index is in bad shape and don't think it's close to give a buy signal. I'd say that, at the best, a buy could arrive at the end of November.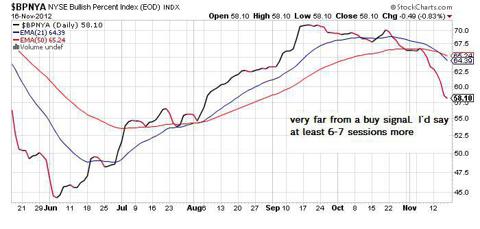 Fears about fiscal cliff is weighting on US Market and on the other side of the world things aren't good. Europe is still waiting to know what will happen to Greece and Spain (20 Nov. Eurogroup and 25Nov Catalans elections in Spain); Japan is going towards a new recession and emerging markets took a pause, even if they are the stronger as relative strength. But al these uncertainties doesn't mean that a December rally is impossible, it could actually happen and I'm waiting for it.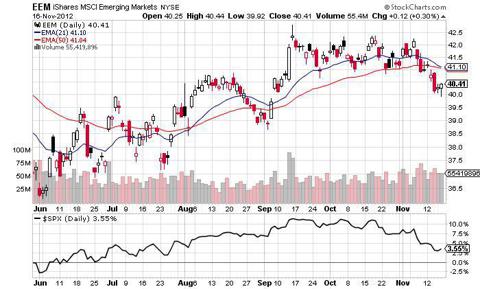 On the commodities side, precious metals rebounded after Obama's victory and could be ready for another move up. A good entry point could be now for 1/4 of size, waiting to add other 3/4 position when euro/dollar will touch 1,25.
Crude oil (NYSEARCA:USO) seems to give signals of short term bottoming. Saudi Arabia told that is happy with actual level of price (Brent just below 110$) and this could limit downside. Moreover tensions in Middle East are surging therefore I'll be "buyer on deep" on the crude within end of year.
Summary: equity markets are in correction model even if Friday marked the 1st attempt of a new bull leg. Confirmation signals are needed and when buy time will arrive, I'd like to jump on Emerging Markets. Could be the moment to begin to add gradually positions on precious (gold /silver) and crude oil.
Disclosure: I have no positions in any stocks mentioned, and no plans to initiate any positions within the next 72 hours.