In the last posts I warned about a bull-market without massive buying pressure. I admit that I missed most part of the last rally just because I like to see volumes when market rise.
There were other indexes in the world that I enjoyed for the end year rally such as Emerging Markets and Europe, but I completely missed US Markets.
On 10 December I had a buy signal from the Bullish Percent and actually is still on the buy side. Until it is above the 20day EMA, you can try to pick some leaders stocks on the correction movements if they draw good patterns.
This indicator says that, even if at the moment market is in correction model, the situation isn't as dark as it looks on the surface. (of course doesn't say if will deteriorate next week...)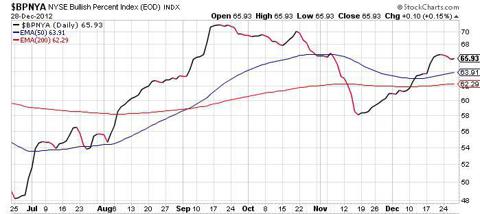 Below have a look at the S&P500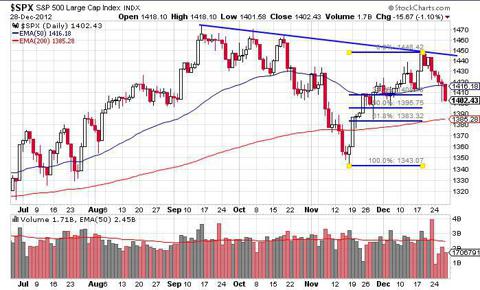 The Index dropped below the 50day EMA and could fall easily to area 1385. That's the level that is important to hold in the short term, otherwise a further drop of 40points could materialize easily.
The good news is that except for the option expiration day, volumes in the selling days weren't impressive. Of course this is an holiday period and they tend to be light, but could have been much worse.
So far this movement looks more as a correction from overbought conditions that the start of a new bear market.
How fiscal cliff will be solved and next earning season probably will lead the real move in January.
In Summary, situation in the market deteriorated compared few weeks ago, but light volumes warned that rally wasn't very strong.
Now market breadth is still positive, signaling the chance of a rebound in coming days.
Support levels are at :1385-1400.
Be patient, monitor the single stocks and jump on those who hold better in this correction phase when another up-move comes.
__________________________
GOLD- weeks ago I warned about a possible gold correction coming and it has materialized.
Now the indicator that told me to short gold, is saying to go long because a bounce is imminent.
I bought GLD at around 161 with OTM put expiring on February.
I think that could rebound but, at the same time I want some protection for the fiscal cliff mess next week.
Target: the minimum target is the upside of this channel at around 165. If that target is reached I'll probably sell half position and, on the residual sell 1month ATM call. But I'll be ready to close all if price return at my entry level.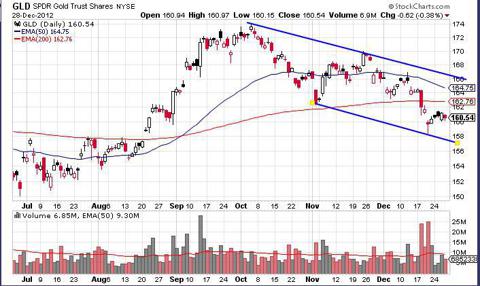 Disclosure: I am long GLD.