The pressure on the major uptrend continued this week. We had 2 distribution days on S&P500 and DJ30, 1 on Nyse. From a pure technical point of view the Thursday's move made me temporarily more optimistic because a double bottom was built. But on Friday another distribution days arose and it signals me that big investors are taking profits now. Don't know if it's temporary or not, but think is good to keep a defensive attitude now.
On the S&P500, next week I'll wait for a break below 1300 to open a short, because it could drop 70 points. I'd close if it returned above. Trend is up, and if it want to go down...it must go down fast, otherwise i don't trust the sell signal.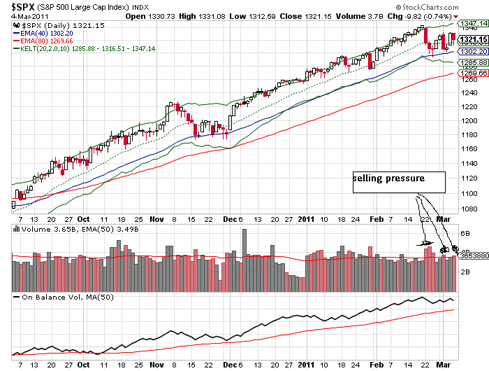 Talking about events, this week was quite rich. In Europe ECB said indirectly that interest rates will rise in April. Probably by 25bp, but if oil continue to rise could be 50bp. Euro rose up to 1,40 vs. Dollar thanks to the interest rate differential 2Y Us-Emu that rose above 100bp. In Us ISM indicator showed strength and labour's data were not bad. I continue to think that many jobs lost in the Us since the crisis are lost forever. They have gone with the real estate crisis and QE will not pull them back… Bernanke spoke in front of Congress and let understand that it would like to go on with the QE2 until the end (in his mind he would like also a QE3 in my opinion…) therefore he'll see the evolution and decide. Now my basic scenario is that it is thinking about reducing the purchases of bond to finish the QE2 in September instead of June. But this idea could change if a abrupt correction will happen in stock markets in coming months. I also think that a QE3 will happen at the end of the year because economy will slow.
Situation in Libya got worse and this sent Wti above 100$/b. I think a military intervent is imminent and Europe will be penalized from this. That's why Euro/Dollar could return around 1,30 in the middle of 2011. In the short term a big resistance is in area 1,40-1,42.
About my stocks. I continue to hold on the CAT call spread position waiting for March options expiration. I opened a new position yesterday, but this is a bet on the downsize. I think that is always good to have both long and short when in an uptrend you see a risk of a correction.
Yesterday I jumped on MRVL (Marvell Tech) after earning disappointment. I opted for a put spread so I bought a put 18 and sold the 16, May expiration. That's gave me a good risk reward in this moment. I could also just buy a put, but I preferred the spread. On the single option I apply a rigid 25% stop loss and if a rebound happen I'd be stopped out. And this could happen easily because Mervill opened with a big gap down. The spread allow me to resist to an eventual short term rebound and gain if the stocks will be depressed in the coming months. Having a look at the weekly chart it could reach the 14 area. Below 14...could be good to buy a single put as well.