After a new record on May, last week markets corrected driven by Fed's minute, some Fed member words and Japan bond market/China Pmi news
The daily chart of S&P500 shows that market was quite overbought and last 3 days can be seen as a normal "take a breath" moment.
I placed the blue arrows in the previous small correction of last months: all of them stopped a little above the lower Keltner channel bands, that at the moment is just above 1600.
The OBV is in an healthy uptrend and confirm that market is strong at the moment.
A warning signals come from the number of correction: this is the fourth one, and typically after the first three, the fourth could be deeper and less safe as entry point.
According Merrill Lynch, Institutional are quite overweight Japan and US equity, underweight EM and Europe. Hedge fund have a leverage level at the highest since 2007.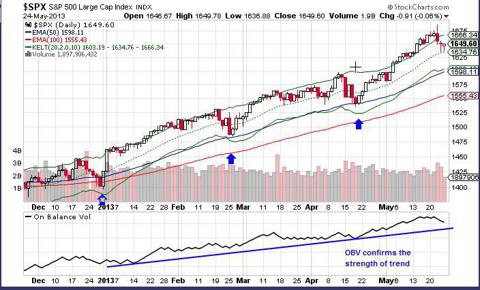 If we have a look at the weekly chart, situation is less rosy. Market is still extremely overbought and showed a bad reversal weekly candle.
Volume situation is still rosy and this let think that the correction will be bought, but could be deeper than daily chart assumption. I place in the blue circle previous reversal candles. In those events, the correction drove markets to the lower bands (around 1500 today).
What do we do? Watching chart, the actual situation seems like in beginning of 2011. The correction could drive market until the mid-band of Keltner channel, now around 1560.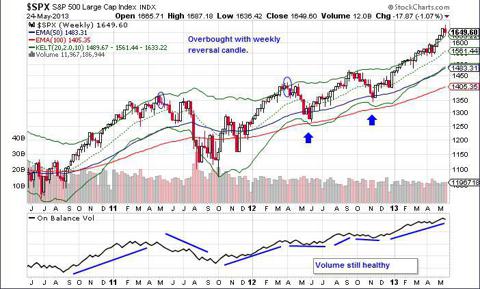 Because of this charts, I'll wait a bit before buying.
Don't know if the market will correct or just will go sideway for few weeks (in that case would be the middle of the channel that would reach the index), but a kind of consolidation is needed.
By the way the market is in long term uptrend until:
S&P500 > 1425
DJ30 > 13385
NASDAQ COMP > 3030
NIKKEY 100> 10.740
ESTOXX 50 > 2575
BUY LIST
These are the ETF (non only equity) I have under radar for future purchases. I could buy them in more phases when they reach support level
Global X Superdividend ETF (NYSEARCA:SDIV)
Powershares DWA EM technical leader (NASDAQ:PIE)
Guggheneim multiasset income (NYSE:CVY)
SPDR Income asset allocation (NYSEARCA:INKM)
SPDR DJ International real estate (NYSEARCA:RWX)
I like these Etf for Income and capital appreciation
Sectors I like are Energy, Semiconductors, Financials (but wait lower prices on these sectors). Could buy healthcare for short term.
Bond Etf I like are:
Pimco 0-5y high yield (NYSEARCA:HYS)
Pimco Total return (NYSEARCA:BOND)
Powershares loan seniors bond (NYSE:BKLN)
I have them and could buy more now.
If price will correct more, I'll purchase EMB, JNK, SJNK and AGG and switching out from HYS