Here I am after a period of holidays.
Major indexes rebounded sharply after the 200 moving averages test and reached last May's level. There was an improvement in breath ratio but market is very choppy. According IBD, the third year of a bull market tends to be quite choppy and it's happening this year.
Let's try to have a look at the longer picture analyzing the Dow Jones chart.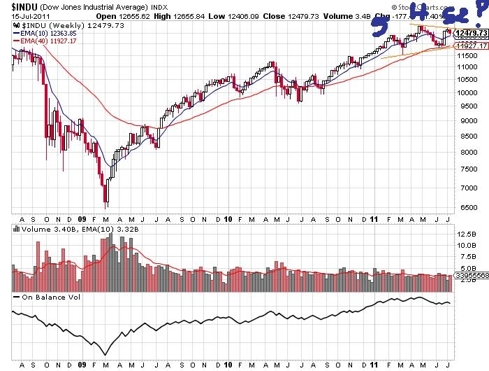 The index is trading lateral and is building a possible Bear Head & Shoulder (H&S). We could be now right into the right shoulder.
The warning signal would be below June lows (< 11.860) becausea drop below this level could lead a deep fall in the market. Similar patterns are building on other major indexes as well. The levels to monitor in coming weeks are 1250 on S&P500 and 2180 for Nasdaq 100.These are levels to monitor for the downside. Of course one should not be scared about this scenario, until it won't happen. Indexes could not reach those levels soon.
On the upside a rise above recent highs could delete the H&S pattern. The upside levels to monitor are 2420 for Nasdaq 100, 12750-12850 for Dow and 1370 for S&P500.
I'm going to draw a table

Until the indexes stay between these levels I think that some income strategies are worth to try. I have opened a covered call position on Cigna Corp(NYSE:CI) some days ago.
I still have the short position on SPY that expires in September as hedge and a condor on Cisco (NASDAQ:CSCO) expiring in October. I made a short term bear game on the ETF Homebuilders (NYSEARCA:XHB), but I closed it out last Thursday when it broke the recent lows with a small profit.
In this phase of the market I don't have a clear picture about what's going to happen in medium term. Of course the future is highly difficult, if not impossible to be predicted, but I can go with the probabilities. And now I don't find some directional strategies that give me higher probabilities trade for a medium term strategy. Until last Tuesday the situation seemed improved dramatically and I found some entry points, but last 3 days showed again selling pressures from institutional. Is going to be choppy probably, good for day traders, less for those looking for intermediate positions.