I write again after long time to give some trading ideas that I plan to implement in coming days. Trend is now down, and we must be careful opening long positions (No go long heavily). On the other side, in the last months major indexes had a wide trading range, therefore this last down-leg could just finish in few days.
Here the trading ideas:
A) LONG QQQ (or Microsoft MSFT)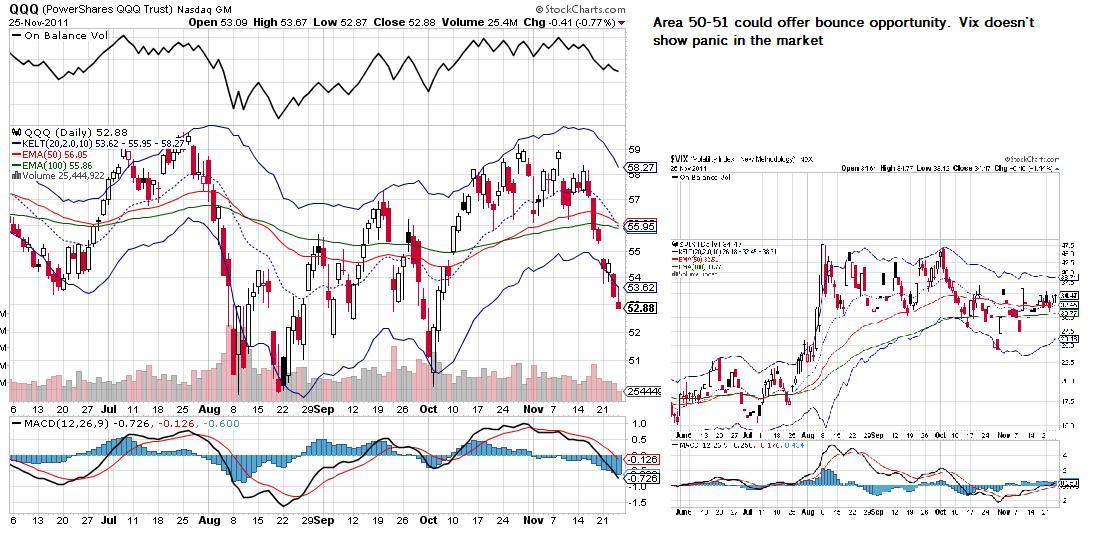 Market is quite oversold and a bounce could happen soon. But Vix is not rising, signaling that there's no panic at the moment even if prices are dropping.
In this environment I would try to catch a rebound on the QQQ in the area 50-51 (see chart), hoping for a rebound towards gap at 55. If this happen, I would sell a put ITM at that level, with 3-4 months of maturity and let it expire.
This would give me the chance to lock in some profits and take all the upside if FED's QE3 give short term support to market.
The same idea could be true for MSFT. A buy area could be a 23-24 for a covering target of 25.
What could go wrong? First, price could fall to the support and continue to fall. I think that if the break last more than 1 day, I would stop the long position.
OR second, price couldn't arrive in my area next week but bounce earlier. In this case, if QQQ returns to 55 before testing lower base of last months trading range, I would open just a straight put around 55 area because 50-51 is my lower target.
I recently made a trade on SLV. I bought it a bit above 32 and sold half position when it closed the gap few days later. The other half is still open (i had as final target the other gap above) and I plan to add more. I am a silver bug who believes that somehow in the 2012 silver will rise above 50$. Now it seems to build a base at this levels, therefore could be good to open a long position. Area 28-29 would be perfect, but I don't know if price will arrive at that level. I 'll decide next week what to do but I could chose one of these strategies:
1) go long and wait for a rebound to sell the put (similar way to the above idea for QQQ e MSFT)
2) sell put @29 Jan12 at around 1,7-1,8$ (Friday prices)
3) go long, wait for a rebound and sell a call later (cov call)
These are my trading ideas. The last one is on Hansen (Hans). This is a volatile stock but could be an idea selling a put @ 80 jan if prices reach that level, or just going long because a rebound could happen (has a gap in 90s area).
Disclosure: I am long SLV. Plan to open positions on QQQ, MSFT, HANS