Selling pressure increased in the last days because of disappointing macro data (especially ISM non manif & Labour market). Some leader stocks lost strength and this is not a good sign, but on the other side S&P is still inside the triangle (look at the chart)
1360 is an important level because a break could lead to a quick loss of further 60-80 points.
Area around 1300 would be another important support level because of exp. Moving average 40 weeks that sits at 1310.
The weekly chart shows why a drop below 1360 (and especially below 1300) would be a warning for bulls.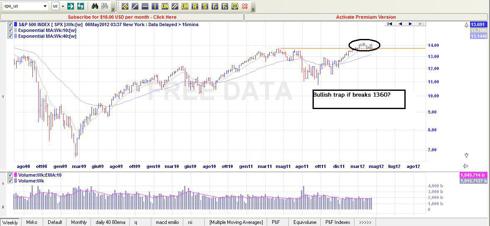 It could create a bull trap that would open the chance for a deep market correction.
My beliefs now is that market will be able to resist to selling pressures for a while and eventually 1300 will resist. Actually I hope that 1360 will not be violated.
To create a perfect bull trap I'd like to see S&P500 to break this year high and then return below that level. But of course market doesn't care about my hopes. And I'm ready to open some shorts below some levels. In the meantime I didn't sell put after those expired in April and I opened a small size long on DFS (Discover Financial Services) at around 33,50. I bought long term option and I'll let them go through expiration without stop losses (that's because size is much below my average). It's a stock that beated last Q expectation, just below all time highs. Actually after I bought it, it made new highs but with low volume and no convinction. I believe it needs more time and a market that start to run up to break it. My target for this year would be at 40-45 and I'm optimistic in next quarter results.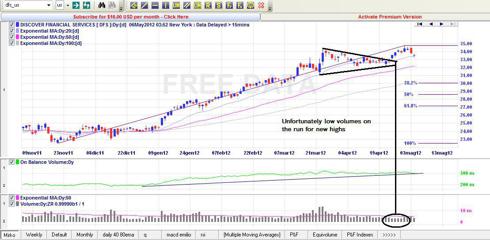 SUMMARY: I'll monitor carefully S&P500 direction this week, hoping for the support 1360 to resist. A break below that level could lead to a drop of further 60-80points and will warn about the risk of a recent Bull market trap and deep correction in coming weeks.
Below 1300 would be particularly negative.
My belief is that S&P500 needs more time for a deep correction and in the worst case it will rebound at 1300. But beliefs go and come; market will say where it want to go and we follow.
Disclosure: I am long DFS.
Additional disclosure: I could initiate long/short positions in coming days/weeks