Hi, this week stock market had a positive performance but without touching the limits I signaled last week.
EUROPE. Euro Stoxx 50 had a positive performance, without going above the high of previous week. It continue to consolidate below 2800 (the important resistance), the limit that would make me open new position and eliminate all hedges on Greenblatt's portfolio. It's also seems to create a short-term double bottom, therefore we must wait and keep bullet ready. Sometimes it can be worthy trying to anticipate the breakup of the double bottom's resistance, but I'll do it only with stocks that exhibit stronger relative strength than index. Personally I wait the break-out because volumes aren't high. Factors who can make profitable to try small pilot-buys on some stocks: index this week broke up a resistance that connects the top of 12th April and 21st June.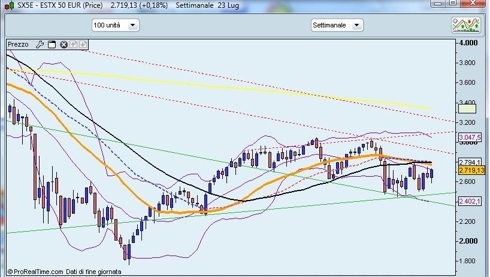 USA: look better than Europe. Nyse Composite broke the previous week high, but volumes were lower than previous week. This factor increase the risk of false signals. Like for Europe one could try small pilot buys but I won't enter heavy before 7090/7100 breakout. Similar consideration apply for S&P500 and Nasdaq Composite, but they have volume not lower than previous week, but approximately in line with.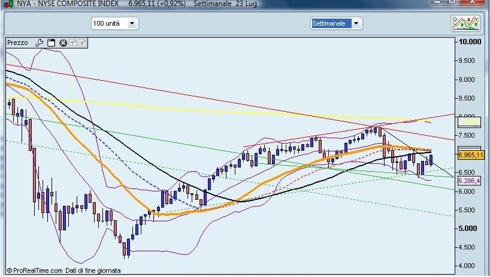 My thermometer of risk aversion, the Euro/Yen show signals of consolidation as well. Look for a breakout of 113,30 (at the end of the London's session) as a confirmation of an eventual break-out of stocks high.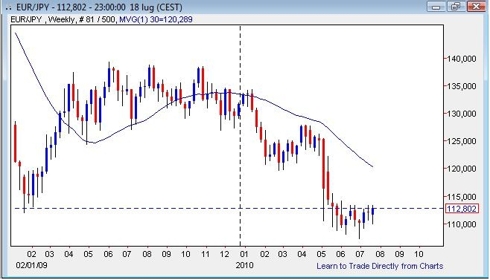 SUMMARY: we had a week of consolidation in the range that contains moves since approx 10 weeks. We are getting close to resistances and Euro/Yen lies just below his own resistance as well. Volumes are lows but we are in the Summer, and usually they tend to dry-up. A breakout of the levels above signaled could drive a summer rally, but without volume is difficult to say how long it last (my gut say around 2-3 weeks). Keep bullet ready for some shots.