This week the bears won the battle. Index tried to break up, the highs on Monday but they surrendered almost instantly. Illusion last only until Tuesday when 1) bad industrial productivity in second quarter and 2) the Fed statement sent down indexes. Markets began to discount deflation scenario and continued the buying pressure on Treasuries. But this time, investors began to sell stocks and bought yen.
In the Usa market dropped. S&P500 dropped approximately to the 38% of Fibonacci retracement if you take the bottom from 1st July and top of last Monday. It is at 1080 level. Ok, index is on a support, but at the moment the trend is still down, so one must be careful. Also Nyse Comp retraced to 38% Fibonacci level even if chart looked different because it broke above the June top in the previous week and now it returned below. It gave a prove of strength, but didn't last for long time. Nasdaq Comp was the weakest of the 3 indexes, because almost retraced the 62% but now is on an important support where it could bounce for some days. What we can see? Market dropped in the last 4 days and reached down to Fibonacci supports. Trend is still down, but a rebound is possible for few days. To avoid a new bear market would be good that indexes accumulate a base for some days between 38,2 and 50% Fibo's level. But until we have not a sort of accumulation base building, is risky to open long positions for medium-term. Just open longs to play a bounce of 1 or 2 days or intraday.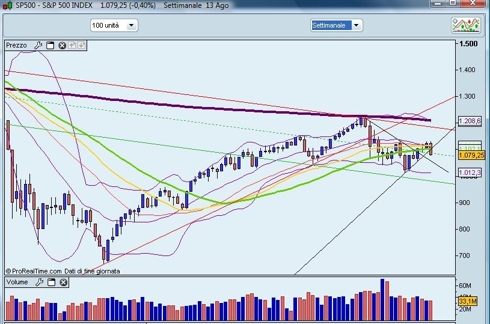 In Europe the Eurostoxx50 made a similar move with a retracement to 38,2% level. It possible a rebound, even if is easier that index will reach fast the 50% level support were it could bounce. The pilot buys were stopped this week but no problems. Pilots are small size test purchases and stoploss is the cost of business. Better to wait for an accumulation base building for medium term purchase.
I bought Finmeccanica last week, but I closed it this week and now I don't have any long position on European stocks.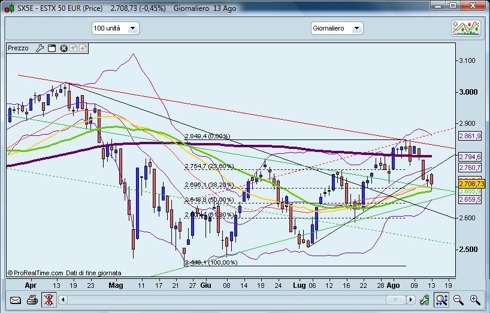 Yen this week made me scared since the beginning of the week that something bad was happening. As I told since first post, euro/yen is my risk-thermometer. It wasn't normal that with indexes at high level, it didn't reach 116-118 level. Moreover we had a yen purchasing against dollar, with cross Jpy dropped to lowest level since 1995. No way, it's a signal of risk aversion arising and very bad omen for stocks.
In this contest if you have a portfolio of stocks that don't want sell, it should be wise to completely hedge it with futures or short etf. August is a month with low volume and markets could be choppy for next 2 weeks and…the medium-term scenario still is bearish until we don't rise with volumes above the highs of 2010.
On LMT that I bought this week, I still hold the position. On Thursday it broke the low oh the "supposed H&S in formation" but it closed above it and I didn't get the stop. On Friday it bounced but volumes weren't impressive. Now I have a stop automatic a 71,75 but I am less optimistic because now it doesn't look as a H&S pattern anymore, therefore if I can I'll try to sell at my price (around 75) or also below if there's another rebound but with no volumes. Like for Finmeccanica, this was a pilot, so stop isn't painful.
As last thing I restarted to buy gold. I liked to wait until September, but if I convert the gold chart in Euro, it's interesting, therefore I started to accumulate. To avoid swings I'll buy a portion every 2 weeks until end/middle October because I am a bull on the gold in the long term and think will arise until 1500(at least!). In the long term I am also a bull on copper that can be much more rewarding and I bet in next 2 years will be called as "red gold" because of China demand. But at the moment I don't think is a good time to buy it.