Here the update after 2 weeks of rest. I say that I got stopped on LMT, but no matter it was a pilot position and currency movement further limited the loss. When I get stopped I always think:
"stop loss is the cost of the business"
Let's talk about the stock of the week:3PAR (NYSE:PAR).
As I wrote previously I bought it this week after HP raised the offer to 24$. I bought well above the level at 26,71$ betting on a battle between HP and DELL. I took some risks because I bought it above the level, but the probabilities of a battle were very high because of these motives:
1) PAR is very small compared to HP e DELL that are 2 giants;
2) both are plenty of cash, much bigger than PAR size;
3) HP and DELL need move into PAR sector and PAR is one among leaders of industry (actually I read this but I don't know it well, article on Wsj said it was among the top 3). And have customized clients;
4) he reminds me a poker game were HP is an aggressive player and DELL a calling station, both with plenty of cash on the table. Usually pot becomes big…
According on these thoughts, I jumped on it with a target above 30.
Now battle moved to 30$(last HP offer), but price is already above. This week we hopefully could have DELL's counteroffer probably at 30$+cents…and HP could re-launch. I bet that HP will win the battle and I'll sell when DELL surrenders. That's why I don't sell even if it quoted a 32,40s on Friday.
My favorite evolution of the battle would be DELL matching HP and HP re-launch around 33-35$. I'll decide day by day this week according new flow.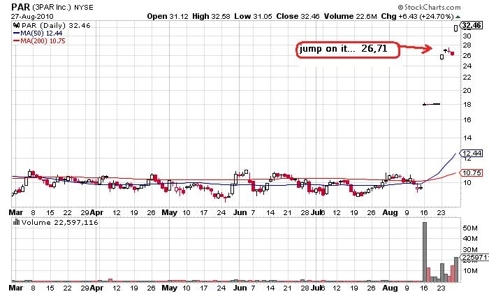 About the general market condition, Bernanke of Friday gave a boost to stocks letting know to investors:
1) economy is growing slower than forecast, BUT the premises for a growth in 2011 are still solid;
2)low interest rates for long time;
3) if needed, Fed will boost liquidity and Bernanke will be an "helicopter"..
S&P500 (SPX) rebounded on 1040 with volumes rising slightly on Friday. And DeMark gave a 13 of sequential recently with a setup 9 in formation (I have it in the office's pc but I'll check tomorrow if the 9 is still building after Friday rally. I live in Europe and left office after Bernanke's speech). If markets don't rise again on Monday or Tuesday, we should have a 13-9 buy on S&P500 and many other stocks. I like this combination and stop would be below summer bottom at 1010.
Have a look to the chart, we could also have an head & shoulder in formation (actually we could be in the middle of right shoulder). But as I learnt, H&S must be traded only when the neckline is broken (at the moment is at 1121, with a light negative slope).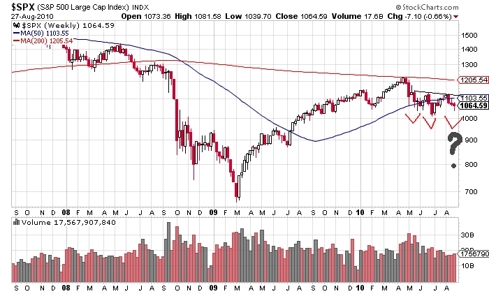 About yen, that I repeat is my risk-aversion thermometer, it bounced from 15y low vs. dollar and 9 years vs. euro. It still signals tensions, but we must see the attitude next week to understand if Bernanke gave a boost that can last some weeks, or if it was a "Friday's firework".
At the moment my main assets are in cash (special cash accounts that pay 1% net) with something invested in
3PAR (PAR)
Playboy (PLA) now news on this side.
A small short Bund position (this one was a bad idea….)
Gold (NYSEARCA:GLD)
In fact I bought also gold this week and the previous betting on the seasonality that usually is good in this period of the year. Moreover the chart in euro looks very interesting.
September will be an interesting month… investors will return full-time after August holiday and I am waiting for a break below summer lows (where I'll open some shorts) or a rebound vs. Summer highs. For sure, if I see the 13-9 formation this week (it should be on Tuesday if market tomorrow don't rise too much), I'll try to buy something with the usual stop-loss.
Disclosure:
long PAR GLD